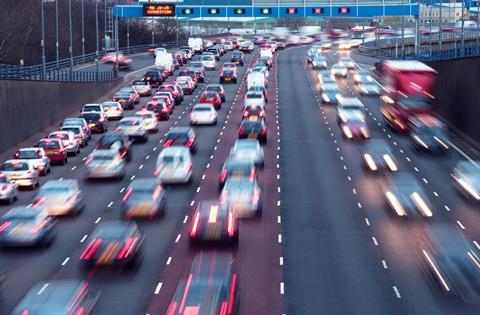 Drivers are set to make an estimated 19.6m separate trips by car to see friends and family between today and Christmas Eve, with 40% of all getaway journeys crammed into just two days, according to new predictions by the RAC and transport analytics specialists INRIX.
Leisure traffic is expected to build steadily through the course of the week, peaking on both 'frantic' Friday 23rd and Saturday 24th December with a predicted 7.9m getaways over the two days expected to be made.
Christmas Eve sees a largescale walkout from rail workers which the RAC is warning will only lead to yet more traffic on the roads that evening. And, with drivers getting away for Christmas vying for road space with commuters and everyday motorists, total traffic volumes are likely to be far greater causing jams in and around cities and at key pinch-points on major roads.
Christmas Day itself is also expected to see a lot of people on the move, with an estimated 3.6m leisure journeys by car taken, with a further 3.3m on Boxing Day and an extra 1.4m trips across both days – but with no commuter traffic on the roads, overall traffic volumes should be lower, meaning serious delays are less likely.
INRIX expects travel times to be around 14% longer compared to the same period last year with stretches of the M25, M60 near Manchester, M6 in the north-west and M40 in Oxfordshire seeing some of the longest jams. However, it only takes a single breakdown on a major road for tailbacks to form quickly, so the advice from both the RAC and INRIX is for drivers to check their vehicles are ready for the road and plan ahead to avoid the worst of the jams.
Meanwhile, research from the RAC has found that when the rail strikes hit, most people turn to their cars as an alternative mode of transport.
In a survey of 2,000 people, nearly two-in-five aged 18 to 24 (39%) said their festive travel plans have been disrupted as a result of the rail strikes – more than any other age group – with the majority of these instead turning to their cars.
The 39% who said they have had their Christmas plans thrown into disarray compares to an average of 21% across all age groups, with just 12% of respondents aged 65 and over saying they've been affected.
Of those 18 to 24-year-olds whose plans have been upset by the strikes, the majority are turning to the private car with 28% of this group planning to drive themselves and a further 23% getting a lift from someone else. Fifteen per cent say they will travel by other means – such as by coach – with just 10% rebooking onto another train on a non-strike day. The remaining 23%, however, do not yet know how they will get to their intended destinations in time for Christmas.
Dependency on using the car in the absence of the trains running is also prevalent among most other age groups – 52% of those affected by the strikes aged 25 to 34 will be driving or getting a lift instead, a figure which is similar to those aged 45 to 54 (53%) and aged 55 to 64 (54%). Across all ages, relatively few people say they will either book onto a different train or catch a coach instead.