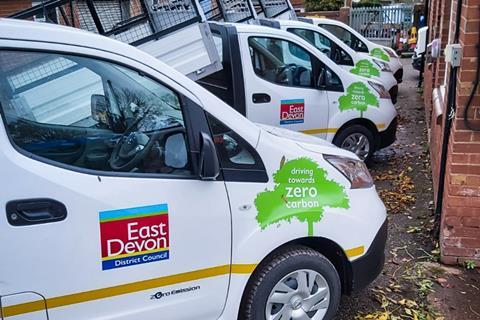 East Devon District Council has become one of the first councils in the country to add electric Nissan ENV200 vans to its fleet.
The move is part of the council's action plan to lead by example and become carbon neutral by 2030. It plans to convert more of its fleet to electric over the next few years.
The seven new Nissan ENV200s electric vans, which are powered by rechargeable batteries and have a range between 124 and 187 miles, represent the latest step in the council's wider commitment to reducing its environmental footprint. The vehicles have a bespoke caged tipping body to ensure they meet operational needs.
As well as the new fleet, East Devon District Council has also partnered with supplier and installer of smart electric vehicle (EV) charging equipment, Elmtronics.
It provided the council with specialist advice and support enabling the local authority to decide on the Alfen Eve Dual Smart Charger for its Nissan ENV200 vehicles.
Using a back office management system called Hubsta, the platform allows the council to have total visibility and control of its EV charging infrastructure, usage, emissions saved and energy utilised.
Elmtronics also supplied four Dual Smart Charging stations for the electric vans in the first phase of the EV Charging Infrastructure, with plans to double this at a second site in Exmouth. The infrastructure installed can be increased over time to serve more vehicles.
Councillor Marianne Rixson, East Devon District Council's portfolio holder for Climate Action, said: "I am really excited to hear that our council has started to convert our fleet of vans to more environmentally-friendly vehicles, which clearly demonstrates our commitment to climate action. It is great news too that we have partnered with an experienced supplier and installer of smart electric vehicle charging equipment, which will be installed at our depots."
Natasha Fry, Elmtronics' associate consultant, said: "East Devon District Council collaborated with some of the most respected and trusted organisations from vehicle choice, body specification, funding and of course EV charging infrastructure. This just demonstrates how engaging with the right people at the right time can help the council deliver a cleaner, greener more sustainable future to the members of the public and we have been delighted to be a part of this."