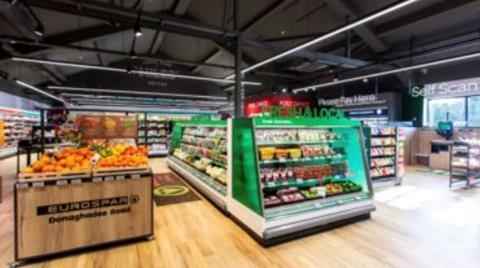 Henderson Retail has officially opened its sixth new-look store this year, Eurospar Donaghadee Road in Newtownards, revealing an all-new community supermarket that has doubled in size. The site has a Maxol branded forecourt.
The opening is the latest in the company's ambitions to expand its supermarket portfolio with the Eurospar brand, having delivered community supermarket transformations in Killyleagh, Donaghmore, Dungannon, Holywood Road and Larne, in the past few months.
Eurospar Donaghadee Road's eight new jobs brings the total number of new retail jobs created by the company so far this year to 140.
With the refits, expansions and new builds, Henderson Retail has delivered additional floor space, energy efficient refrigerators and ambient shelving to allow space for over 2,000 additional products including a wider selection of fresh and local products, delivering on The company's ambition to primarily source from local food suppliers. The ranges include Spar NI's popular own brand The Kitchen, created with 11 local food producers and providing ready to heat and eat meal options.
In addition, the new Eurospars offer shoppers more value in-store thanks to initiatives such as Tesco Price Match, which matches prices on over 1,000 products. Shoppers can also fill their trolleys for Tonight's Tea for less with Weekly Mega Deals, which sees significant price cuts on everyday essentials and many household brands.
Eurospar stores aim to provide a hub for their local communities, with the store teams channelling their efforts into fundraising for community groups and local charities every year. The team at Eurospar Donaghadee Road recently got together to clean up their local community as part of Henderson Group's Keep Communities Tidy campaign, picking up 26 bags of rubbish along Donaghadee Road and surrounding areas.
Mark McCammond, retail director at Henderson Group commented: "We are thrilled to open our latest Eurospar in Newtownards, our sixth opening of the year so far.
"The new and transformed stores have already become central to their local communities, bringing new job opportunities for those in the local area as well as fundraising for local charities and organisations, and getting to know shoppers individually, providing a friendly face in the community.
"We've had an amazing response and shoppers are feeling the benefits of having a community supermarket on their doorstep already. They are a prime example of the value prices, community hub and abundance of fresh food supply that our stores provide, thanks to our continued support of local suppliers.
"We're looking forward to unveiling the further store projects that we have in the pipeline for 2023 as part of our continued investment."