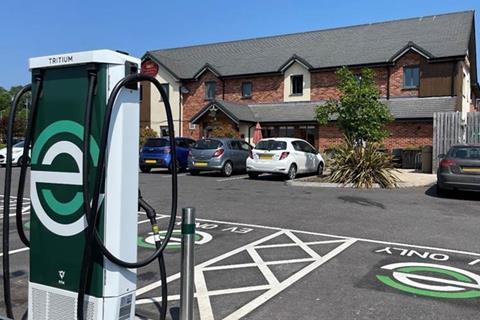 EV charger manufacturer Tritium has installed its 150th rapid charger in its partnership with UK charging network evyve.
A purchase order for 350 Tritium fast chargers was announced at the beginning of this calendar year. The majority of the 150 chargers manufactured and delivered have been installed at retail sites owned by Greene King pubs.
David Nicholl, Tritium chief sales officer, said: "This is a critical time for the development of the EV infrastructure that many industries rely on. Car manufacturers need their customers to have trust in the rapidly expanding electric vehicle charging network, with assurance that they will have great EV charging accessibility, convenience, and reliability.
"This is another positive step and we're incredibly pleased to have made this progress with evyve in support of its reliable charging network roll-out and ambitions for the UK market."
James Moat, CEO of evyve, said: "We are on a mission to drive sustainable solutions quickly and to improve the UK's EV infrastructure. Currently a lack of charging infrastructure is often cited as one of the biggest barriers to EV adoption in the UK.
"As we install our 150th Tritium charger, we want to spread awareness of our partnership and celebrate the swift progress we are making with the deployment of Tritium fast chargers nationwide."