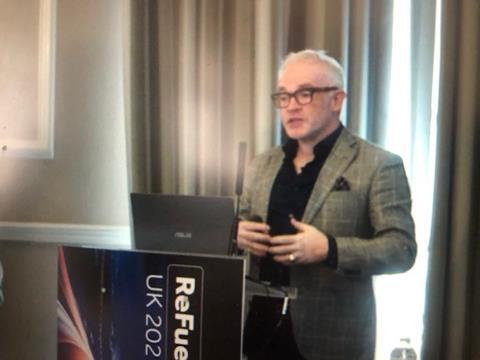 More than 80% of forecourt operators believe electric vehicle (EV) charging will be a revenue driver for their businesses in the future, but most are unsure how.
This was one of the findings of a survey of forecourt operators by fuel pricing experts Kalibrate, which was revealed at the ReFuel UK 2021.
Kalibrate chief executive Oliver Shaw said that 86% of respondents believed EV charging would be a driver for their businesses, but 55% were unsure about how to make plans and how the commercial models were going to work for them, while most of the others had had not even begun to think about their EV strategy.
But he warned: "If you roll back into renewables both on the volume of energy being produced by renewables and their price they've beaten every forecast that's ever been made about them so if you take the view that this is going to be slow it might happen a lot faster than we are prepared for, so not planning ceases to be an option."
Shaw said they had also carried out research into the views of consumers who drive EVs and this showed they used a greater variety of localities for refuelling and spent more than other drivers.
He said: "EV drivers want recharging at a range of locations. They are not just focused on traditional ways of refuelling their vehicle so they look to places such as their place of work as being key, clearly home will be key. Other shopping locations open up in terms of being available for charging, whether that's a quick service restaurant or cafes or moving over to others places that people go like gyms and so on.
"What's critical is when you think about where people are going to charge you may not see the same sort of footfall as you would at a gas station. When you put that into a concept around a forecourt then what you need to be thinking about is how that is going to change behaviour, and the overall volumes that are going to come through."
Shaw said that although 98% of journeys were under 30 miles, meaning very few drivers would ever run out of charge, range anxiety was engrained and creating confidence in the charging network and the ability to access charging easily and cheaply was paramount for take-up of EVs.
He also revealed that 58% of drivers often visit shops or business that offer EV charging even if they are not actively seeking to charge their car, and predicted it would become a requirement similar to the need for outlets to offer Wi-Fi now.
He added that 59% of drivers tend to spend more at shops and businesses that offer EV charging. He added: "Some of that is about they are spending more time on site, but there is a definite uplift in the amount people spend in their basket when EV charging is there and it may not necessarily be related directly to the charging itself."