Gridserve opens Post Office at Norwich Electric Forecourt
The facility is available seven days a week for visitors
Post Office joins Costa Coffee, WHSmith and M&S Food on the site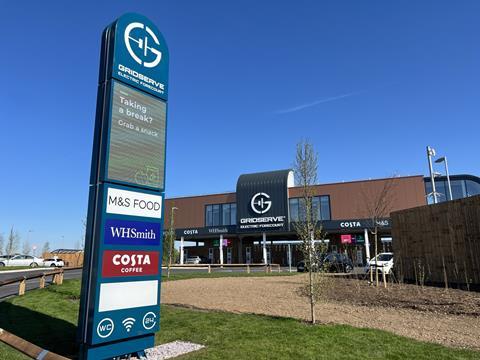 A new Post Office has opened at Gridserve's Electric Forecourt in Norwich, Norfolk, as the company bids to make the site a 'community hub where everyone is welcome'.
The Norwich sites is described as a state-of-the-art electric vehicle charging facility located at Broadland Gate Business Park, just off the A47.
Available seven days a week, the Post Office will be available from 9am to 17:30 on weekdays; 9am – 14:30 on Saturdays; and 9am – 12:00pm on Sundays with visitors able to use service such as posting letters and parcels to banking and paying bills.
The Post Office joins an array of on-site facilities and retail offerings including 36 electric vehicle chargers available 24/7, Costa Coffee, WHSmith, M&S Food, a waiting lounge with free superfast Wi-Fi, high-end washrooms, a kid's area, and bookable business meeting room pods. Gridserve says the Electric Forecourt is not only a state-of-the-art charging facility but also a community hub where everyone is welcome.
The Electric Forecourt is designed to help make the process of switching to electric vehicles as simple and straightforward as possible for everyone. The upper floor of the building above the chargers showcases the latest electric vehicles and there are multiple digital screens that help people learn about the benefits of making the switch. Many EVs can be leased directly through Gridserve, with potential customers able to test drive a range of EVs at the Electric Forecourt, all in one place with on-site team of experts on hand, to help provide people with the confidence to make the transition to an all-electric future.
Chris Ward, general manager at Gridserve Norwich Electric Forecourt, said: "We are thrilled to be opening the new Post Office at our Electric Forecourt which provides the local community access to vital services. Everyone is welcome whether they have an electric vehicle or not as our Electric Forecourt in Norwich is not only designed around the needs of electric vehicle drivers, but also here to deliver the best possible customer experience, offering world-class retail and customer services."
Gridserve opened its second Electric Forecourt in Norwich in April 2022, as part of its plans to roll out more than 100 Electric Forecourts across the UK. The company claims the site is among the most advanced EV charging facilities in the world. It enables 36 EVs to be charged simultaneously, with high power chargers that can deliver up to 350 kW of charging power, capable of adding 100 miles of charge in less than 10 minutes.