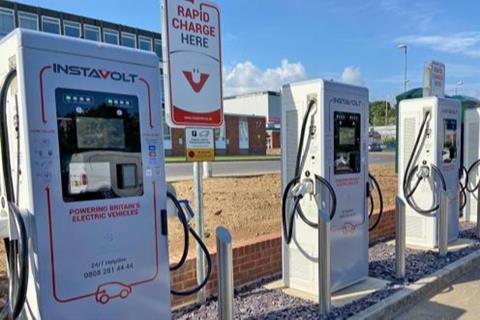 EV charge point network InstaVolt has announced the installation of its fastest charger units yet, which can add over 100 miles of range in just 15 minutes.
It claims the new units will reduce charging time by up to 50% compared with a 50kW charger.
The new rapid chargers will be deployed across all future installations, including InstaVolt's McDonald's and Costa Coffee sites nationwide. Already 10 of the chargers are live on the InstaVolt network, including four units at Solstice Services on the A303 in Amesbury.
The new units from BYD have one CCS and one CHAdeMO connector on each unit allowing two cars to be charged at once.
The new chargers feature 3.6m long cables for easy charging wherever a customer's charging port is located, and the cable management system on the side of each unit includes clear instructions on how to stow the cable away so the connectors remain clean and tidy for all users.
Adrian Keen, chief executive officer of InstaVolt, said: "Offering new and improved public charging technology across the UK is vital to increase the uptake of EVs. Being able to deliver even quicker charging speeds, while also maintaining excellent reliability is what drives InstaVolt forward.
"We're incredibly pleased to be the first charging network to install BYD public chargers in the UK. Delivering this new and improved technology across locations such as McDonald's and Costa will mean that any EV driver passing through these locations can speedily charge their car."
InstaVolt said intends to bring even faster chargers of more than 150kW to the market in this financial year and will continue to be powered by 100% renewable energy.