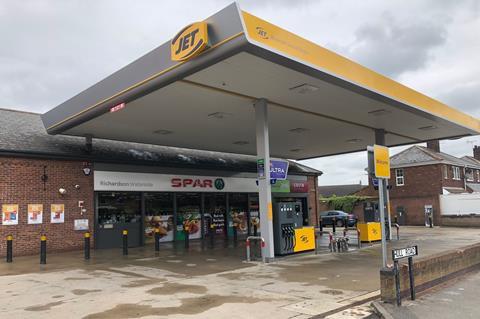 A new Jet-branded petrol station and Spar convenience store has been opened in Beverley, in the East Riding of Yorkshire, by Top 50 Indie Jos Richardson & Son.
The company bought Waterside Filling Station earlier this year and following a comprehensive refit the site re-opened for business on Wednesday 4 May, operating with long-term brand partners Jet and Spar.
It's the first service station where the company has installed self-service checkouts for both fuel and shop-bought goods, and also features a Costa Express, a Daily Deli offering hot and cold food to go, an off-licence selling beers, wines and spirits, a National Lottery outlet, a Tango Ice Blast machine, a full range of Vape products and an ATM within the store, as well as offering a range of Cook-branded, premium frozen meals. Opening the site has created 10 new jobs.
Jos Richardson & Son is a fifth-generation family business, which is headquartered in nearby Howden, and operates 10 service stations and convenience stores across Yorkshire, as well as a truckstop.
Managing director Joseph Richardson said: "We're delighted to have bought the freehold property at Waterside Filling Station, Beverley. This is an exciting opportunity for us, which we're predominantly viewing as a convenience store offering fuel.
"The store achieved good sales before it was closed and we hope to get back to that level and beyond. For the last few months, we've been working with our suppliers to get the site up and running, and we're delighted to have welcomed our new Beverley-based team to the Jos Richardson & Son family."
Waterside Filling Station was previously let to The Co-op but has been vacant since April 2021, and Jos Richardson and Son was swift to act when the property's owners decided to put it on the market. It comprises two fuel islands, with four fill positions, and the building extends to 4,000sq ft, with a net retail area approaching 2,500sq ft.
Last year, Jos Richardson & Son added the Budgens-branded convenience store in Gilberdyke, East Yorkshire, to its portfolio, which is the first of the company's sites to operate purely as a convenience store, rather than as a service station with a convenience store attached to it. Soon after it purchased a shopping parade at Haxby near York.
Joseph added: "Coming so soon after the purchase of our first straight convenience store at Gilberdyke and the property investment at Haxby, it has been a busy few months but we're excited about the huge potential that these new sites bring to our growing and evolving business.
"To get the new Beverley store open, we've done a complete refit, which includes new refrigeration and new pumps selling four grades of fuel."