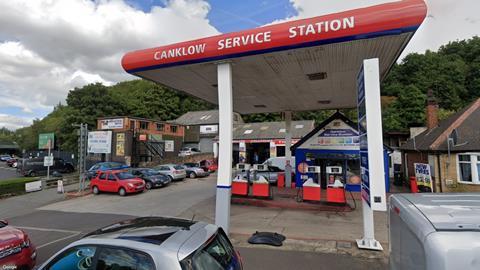 Canklow Bridge Ltd has lodged a planning application for a knockdown rebuild of its Canklow Service Station in Rotherham.
The site, on a side road next to the busy A630 West Bawtry Road, currently includes a forecourt, a small shop, car repair services and a bungalow.
The application states that Canklow Service Station has a worn-out appearance. Its surfaces are worn or damaged due to exposure to the elements, as well as the wear and tear that vehicles and customers have caused over time. The canopy is described as 'old' in comparison to other petrol stations in the area. The application says the shop building is dated, with faded paint, chipped brickwork and old-fashioned window frames that do not provide good insulation or natural light. The small shop has limited space and outdated fixtures and is therefore uninviting for customers.
"In general, Canklow Petrol Station currently lacks the modern materials and finishes that are used in contemporary petrol stations, which are designed to be efficient, durable and visually appealing to customers," said the application.
The applicants want to demolish the existing pump islands, canopy, shop building, workshop buildings and bungalow. These will be replaced with a 24-hour site with new convenience store which will offer hot food to go, new pump islands as well as a jet wash and air/water bay and four EV charging points. There will be 11 parking spaces.
The applicants said the development will have a positive impact by organising and improving the existing site and will not cause any significant environmental or community issues.
The consultation period for the application is currently open and closes on July 13.