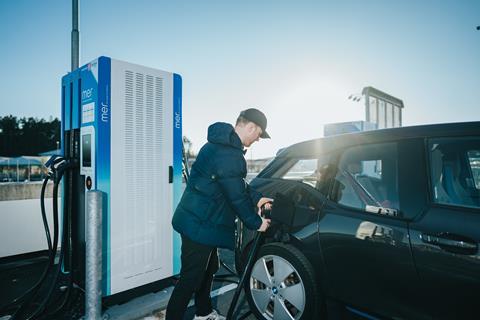 EV charging experts Mer have partnered up with one of the UK's leading fuel management companies, Allstar Business Solutions, to support the country's transition to cleaner, greener motoring.
The partnership will see Allstar's customers access over 160 charge points operated by Mer - with the aim of reducing range anxiety for motorists making the switch to electric vehicles (EVs).
For Mer, which is owned by Norwegian energy giant Statkraft – Europe's biggest generator of renewable energy – the deal further strengthens its commitment to enabling more accessible EV charging.
Mer, which has years of experience developing EV infrastructure in Norway, Sweden, Germany, and now more recently in the UK, is focused on working with businesses and local authorities to help meet the estimated 400,000 public chargers needed by 2030. Where Mer also supplies the power to its chargers, it claims to use only zero-carbon, 100% renewable energy from electricity generated solely by wind, solar and hydro sources.
Mer UK's managing director, Anthony Hinde, said: "We're delighted to have agreed this partnership with Allstar. Together we will help reduce the concerns EV drivers have about finding somewhere convenient and accessible for them to charge-up.
"As the country scales up its charging infrastructure, partnerships like this one will be key to serving motorists in a frictionless way."
Paul Holland, managing director of UK Fuel at Fleetcor UK, said: "There has been some clear momentum gained in the electric vehicle movement in recent times. By partnering with Mer, we are both helping the UK's fleets to make the switch to EV seamlessly, with increased convenience for charging sites, as well as reducing range anxiety as we continue to add more charging points to our growing network."
The partnership with Allstar is one of a number of roaming agreements Mer has entered recently, as it continues to work towards its vision of an open and accessible charging network to all EV drivers. Mer has also formed alliances with the AA to help support their EV drivers get better customer support and joined the Scaling-on-Street Charging Infrastructure project (SOSCI) to install charging points in the North of England - as part of the company's commitment to delivering more inclusive charging.
Statkraft recently debuted on the European EV charging market with the newly created brand Mer, a consolidation of its EV charging businesses (including previous UK operations Gronn Kontakt) under one identity.
Mer aims to become a European leader in sustainable EV charging, with a focus both on using renewable energy as the source of power, and on creating the best experience possible for EV drivers.
The company recently announced a roaming partnership with smart EV charging specialist NewMotion, a Shell group company which claims to be one of the largest providers of access to public charge points in the UK.