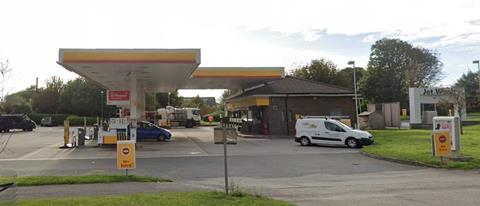 Shell has applied for planning permission for a knockdown rebuild of its Playing Place site on the A39 in Truro.
The application says the forecourt, which was built in 1992, is in 'much need of refurbishment' because it does not meet the needs of motorists.
The site currently comprises a forecourt with four pump islands arranged in a starter gate formation with a canopy which links to the shop. There is an underground tank farm, a jet wash and an informal parking area.
The application seeks full planning permission for the demolition of the existing shop and forecourt and the erection of a new shop, forecourt (domestic and HGV) including underground fuel tanks, pumps and canopies, car parking and an EV charging hub.
New fuel infrastructure is proposed to bring the site up to current standards. The four existing pumps and pump islands will be demolished and three new pumps on new concrete and kerb pump islands will be installed in a starter gate formation. This will provide refuelling for six vehicles at any one time. A new canopy is proposed to replace the existing one. The site will continue to provide HGV refuelling with two refuelling positions. The EV charging hub, with canopy, would provide fast recharging facilities for eight EVs.
The seven existing underground fuel storage tanks would be decommissioned and removed, and two new 70,000ltr underground tanks are proposed with associated pipework to the pumps.
A new shop, which would be 96sq m bigger than the existing one, would have a "clean and crisp appearance", with extensive use of glazing. It would include customer toilets (male, female and disabled) and an ATM. The back-of-house area would have a large store room, a walk-in chiller, a staff room and an office. A new compound is proposed to the side of the shop for bins.
There would be six standard car parking spaces, one disabled car parking bay and one air/water bay. Three staff car parking spaces would be provided near the shop.