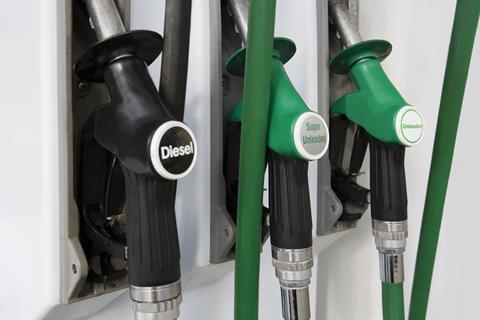 The average price of diesel across the UK hit a 'scary' new record high of 147.94ppl a litre on Sunday, October 31, just surpassing the previous high of 147.93ppl set on 12 April 2012, according to the latest RAC Fuel Watch data.
However, in contrast to the RAC's comments last week that retailer margins contributed to record high prices on petrol, it acknowledges that margins on diesel are not to blame in any way, as they have been the same for the past nine and a half years.
The record diesel price comes just a week after petrol also went above the record price of April 2012 at 142.48ppl. Since then it has gone higher still, reaching a new peak of 144.35ppl on Halloween.
The data reveals that the price of a litre of diesel has risen 30ppl in a year, with the RAC estimating that a full 55-litre tank will be £16 more expensive (£65 to £81).
Pump prices have obviously been affected by doubling of oil prices to $80 from $40 a barrel a year ago, but diesel prices are also affected by the cost of biodiesel - the 10% content contributes around 16ppl to the cost, whereas 'pure' diesel (93%) makes up around 40ppl, the RAC estimates. Biodiesel is also three and a half times the price of diesel itself on the wholesale market – a tonne costs around £1,800 whereas diesel is £520.
The new record price is bad news for the UK's 12.5m diesel car drivers, the majority of the country's 4.5m vans, and 525,000 heavy goods vehicles.
RAC fuel spokesman, Simon Williams, said: "While this isn't unexpected as petrol has already hit a new record price, it's still another body blow to drivers and businesses across the country who were already struggling to cope with rising prices.
"As well as hitting household budgets this will have a knock-on effect on the price we pay for goods and services as diesel is very much the fuel of business and, as such, will contribute further to inflation.
"While the price of diesel on the forecourt has primarily shot up due to the cost of a barrel of oil doubling in the last year from around $40 to more than $80, the price of biodiesel is now two and a half times what it was 12 months ago. This means the biodiesel content in a litre has rocketed from 7ppl to 16ppl, while the pure diesel component has doubled from 20ppl to 40ppl.
"Unlike petrol where retailers have increased their margin on every litre sold compared to 2012, the profit being taken on diesel is the same as it was nine and a half years ago, so we're pleased to report this isn't adversely contributing to the record price at the pumps."