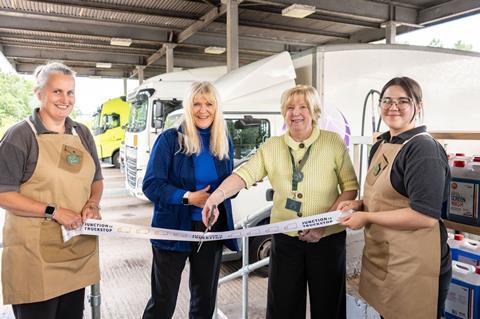 Junction 38 on the M6, aka Tebay's Truckstop, has had an extensive shop makeover. The Filling Station Shop, which serves both HGV drivers and the local community, has been expanded and now includes a hot food counter.
Breads from Kendal bakery take centre stage in the shop, and are accompanied by local meats, chilled food, general groceries, beers and wines, as well as takeaway pies and sandwiches.
New Junction 38 Truck Stop exclusives include The Filling Station Hot Dog, Breakfast in a box and Pie Mash & Gravy.
"Junction 38 has always been somewhere truckers look forward to stopping off," says operations manager Adele Shewan. "There's no reason why a truck driver wouldn't want good food, so we started with that ethos and consulted our regulars and set about making the absolute best Truckstop in the UK."
The revamped outlet was officially opened by BBC Radio 2's Sally Boazman, who previously received an Outstanding Achievement Award on behalf of all the UK truckers for her traffic news on Radio 2.