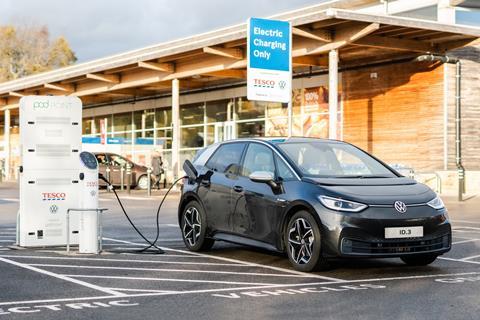 Tesco will start charging customers to use its EV charging points from November 1.
Charging was previously provided for free but from next month, prices will start at 28p/kWh at 7kW power; 40p/kWh at 22kW and 50p/kWh at 50kW.
In a statement on the Pod Point website, it said that the Tesco EV charging network, developed in partnership with Pod Point and Volkswagen, had provided more than 86 million miles of free electric driving. And overall, the Tesco EV charging network has saved over 12 thousand tonnes of CO2.
The statement went on: "The new tariffs are some of the most competitive in the market and will enable us to continue investing in our network. It's hoped that by making these changes customers will only top up when they need to, ensuring that they make way for others once their cars are charged."
It said the new tariffs go live on Tuesday November 1 and will be some of the most competitive on the market. It added that there would be no discounts for Tesco shoppers but believed that the tariffs represented 'great value' for customers.
According to Pod Point, the supermarket giant is still on course to have EV charging at 600 stores by the end of spring 2023.