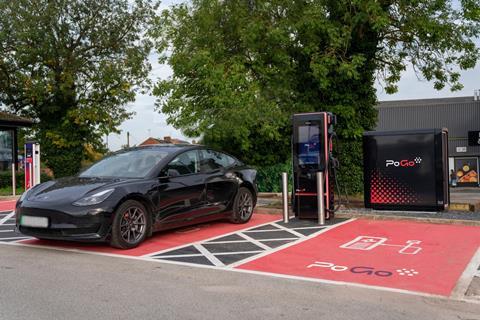 Derby's fastest public EV charging units have gone live at Southgate Retail Park, the first site in a pipeline of projects being planned by the EV charging network, PoGo, and Real Estate Investors PLC (REI).
Southgate Retail Park now features two 7kW chargers and two ultra-rapid 200kW Touch Plus chargers – the fastest available in the area – with large touchscreens and a simple user interface that provides clear instructions throughout the charging experience.
In the UK, this is the first time the Touch unit has been upgraded to become Touch Plus using power modules to deliver ultra-rapid charging. The site has been designed to PAS 1899:2022 standards, which means the chargers arefully accessible with wide bays, hatched areas, and a cable management system to assist drivers and ensure the area around the units is kept tidy and safe when not in use. The chargers allow various payment options, including contactless bank cards, RFID payment cards, app, webpay, and Octopus Electroverse.
PoGo is already looking at five more REI sites across the Midlands, where it expects to install another 11ultra-rapid chargers in the coming months.
Stuart Douglas, managing director at PoGo, said: "The addition of EV charging at REI's Southgate Retail Park will help attract new customers to the shops and restaurants, supporting REI's tenants at the same time as giving REI a consistent revenue stream and supporting its commitment to a more sustainable future.
"Demand for en route EV charging is growing and drivers want reliable charging at convenient locations. We hope that our partnership with REI and the rollout of our ultra-rapid charging at prime locations, will not only support existing EV drivers but also encourage others, and ultimately support local decarbonisation."
Jack Sears, asset manager at REI PLC, said: "PoGo's fully-funded product and service offering is best-in-class. The PoGo team is taking care of the site analysis, design and installation, and providing the best charging technology and ongoing maintenance, to ensure that visitors have a quick and easy EV charging experience."