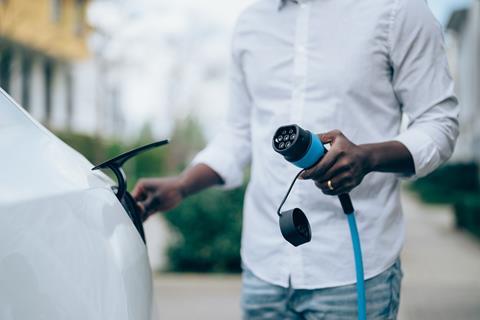 The UK's used car market grew 4.1% in the first quarter of 2023 following three successive quarters of decline, according to the latest figures published by the Society of Motor Manufacturers and Traders (SMMT).
Battery electric vehicles (BEVs) were the fastest growing powertrain, with transactions rising 56.5% to 26,257 units, representing 1.4% of the market – up from 0.9% last year. Plug-in hybrids (PHEVs) also changed hands in greater volumes, rising 13.9% to 16,006 units. As a result, plug-ins comprised 2.3% of sales, up from 1.7% last year as increasing numbers of zero emission vehicles entered the second-hand market. Hybrids (HEVs) also grew, by 38.2% to 49,182 units.
But, while demand for used electric vehicles continues to grow, conventional powertrains remain dominant, with petrol transactions rising 4.5% to 1,048,015 units and diesel sales up marginally by 0.2% to 706,282 units. Combined, ICE cars accounted for 95% (1,754,297 units) of the market, a fall of 1.2 percentage points on last year.
The SMMT reported that 1,847,149 transactions took place in the first quarter of this year, with 72,798 additional cars changing hands compared with the same period in 2022, as growth in the new car market improved availability.
In the best start to a year since 2020, used car sales posted robust growth in each month as demand continued to recover post-pandemic, with rises of 3.6% in January, 4.4% in February and 4.3% in March. However, Q1 transactions remain -8.6% below pre-pandemic levels, reflecting the ongoing impact of supply challenges and consumer sentiment in light of the economic backdrop.
Mike Hawes, SMMT chief executive, said: "Easing supply chain challenges have re-energised new car registrations, unlocking availability in the used market and, importantly, delivering more zero emission capable vehicles to second and third owners. Sustaining that growth is vital for our environmental goals, which means bolstering the new car market to drive supply to the used sector. Infrastructure rollout must also improve – and at speed – with affordable and reliable charging essential if more used buyers are to switch to the latest and cleanest available vehicles."
Reacting to the latest SMMT data, Mark Oakley, director of AA Cars, said: "High petrol and diesel prices have prompted thousands of drivers to consider going electric, and with brand new electric models still costing significantly more than conventionally fuelled rivals, the improving availability of second-hand EVs has given the used market a welcome lift."
He continued: "Nine straight months of increased new car sales have steadily increased the number of second-hand cars coming onto the used market, and this improving supply has met brisk demand from value-conscious buyers.
"2023's strong start marks a welcome return to form for the second-hand market, which saw total sales shrink by 8.5% in 2022. Now as supply constraints ease, sales numbers are climbing and prices are levelling off.
"Last year's shortage of used cars for sale pushed up the average prices of many of the most in-demand models. However, the latest AA Cars data shows that since the start of 2023, the prices of Britain's most popular used cars have held remarkably steady.
"With double-digit consumer inflation squeezing people's disposable incomes and the prices of brand new cars following suit, many would-be buyers are looking to the greater value of the second-hand market instead.
"While they still account for a small proportion of total used car sales, the rapidly increasing number of EVs coming onto the second-hand market is also helping to boost buyer interest."