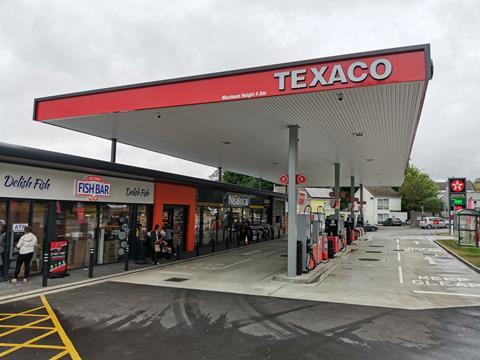 Fast-growing Top 50 Indie Ascona Group has announced that its flagship Green Garage Service Station in Pembroke, West Wales, will be officially reopened on Thursday, July 8.
The site, which is already open for trading, has undergone a full knockdown and rebuild of the original forecourt, formally known as Bush Hill Service Station.
In line with Ascona's strategy to develop the next evolution of roadside retail destinations, the upgraded site includes a Nisa Retail proposition and Costa Coffee self-service kiosk and also features the Ascona Fish Bar, Instawash launderette and jet-wash. It also includes infrastructure for six electric vehicle charging points, in line with the Group's vision to support the next generation of vehicles.
Ascona has signed a five-year agreement with Texaco to supply fuel for the site, which has annual projected fuel volumes of three million litres.The company claims that since opening on June 11, the site has already exceeded all internal performance expectations, with weekly shop sales of around £40,000.
Matt Dooley, vice president of UK Commercial Operations at the Valero Energy Corporation, will officially reopen the site, while Darren Briggs, CEO of Ascona, will present two local organisations, Neyland Rugby Club and the Green Park Play Community Association, with donations of £6,000 each. The funding will support new play equipment for Green Park and fund every team's kit at Neyland Rugby Club for the entire season.
Commenting on the grand reopening, CEO Darren Briggs said: "It is a proud moment to be marking the completed transformation of Ascona's first ever site, 10 years after I signed the original lease, which is a real symbol of how far the company has come in that time. The new Green Garage Service Station is part of our strategic plan to future proof our portfolio by enhancing our sites, improving performance, and providing a world-class roadside retail destination for our customers.
"It's truly exciting to see it open for business once again and trading so well. My thanks must go to C+A Design Ltd, Toureen Group and The Jordon Group for designing and building our vision, and to the entire Ascona team for their continued efforts."