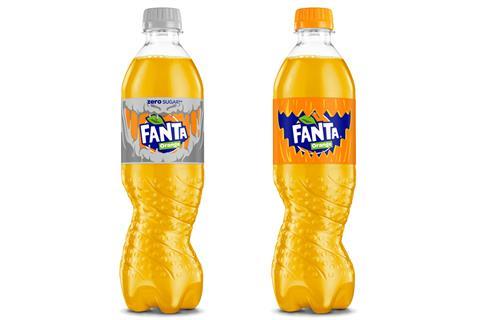 Coca-Cola Europacific Partners (CCEP) has announced details of this year's Fanta Halloween activity, including an on-pack promotion offering prizes or scary surprises.
From September 12 shoppers will be invited to scan QR codes on limited edition packs of Fanta to find out whether they've won a prize from a £50,000 prize pool.
Prizes range from cauldrons of cash, to home entertainment systems and supplies for the ultimate scary movie night in.
Those who don't win will receive exclusive digital content to scare their friends and family with instead.
As well as Fanta Orange and Orange Zero, this year marks the first time Fanta Lemon, Fanta Fruit Twist Zero, Fanta Grape Zero, and Fanta Raspberry Zero are being included in the brand's Halloween activity.
Promotional packs include 330ml cans, 500ml bottles and 2 litre bottles.
The promotion will be supported by a multi-million-pound marketing campaign which includes the return of the 2021 TV ad, paid social media, digital and out of home advertising. Free POS materials will also be available by mid-September.
Martin Attock, vice president of commercial development at Coca-Cola Europacific Partners GB, said: "Worth more than £270m and in 13.3% growth, Fanta is the number one flavoured carbonates brand in GB and has become synonymous with Halloween in recent years. Fanta Zero is doing particularly well and led growth during the spooky season in 2021, which is why we're including more of our popular zero sugar flavours this time around.
"Retailers can create in-outlet theatre with front of store and aisle end displays – where HFSS-compliant ranges like Fanta have a key role to play. This, combined with our £50,000 prize pool and the other marketing activity we have planned, will help Fanta and our customers achieve another year of strong growth at Halloween."