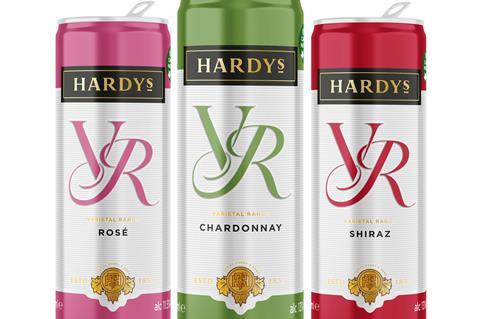 The UK's number one wine brand, Hardys (Nielsen data), is launching a new three-strong canned range comprising Rosé, Chardonnay and Shiraz.
The convenient format is expected to appeal to younger shoppers, with the single-serve can also tapping into the trend for moderation. A recent survey found 52% of people aged 18 to 44 drink wine in cans or plan to do so in the next 12 months (Norstat data).
Made from aluminium, the 250ml Hardys cans are fully recyclable. Rrp is £2.50.
Lindsay Holas, brand manager at Accolade Wines, said: "The cans format opens the doors to a whole host of drinking occasions and audiences. Offering a convenient and easily recycled option, we're expecting the cans to be a hit at festivals in the next few months, while also performing well in retail, with their compact size making them perfect for picnics and outdoor summer occasions."