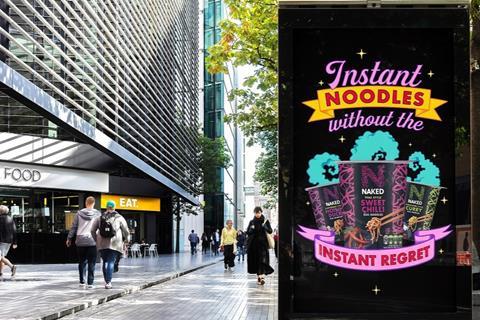 Instant hot snack brand Naked has launched its biggest consumer marketing campaign this week: Slurp Loud & Proud.
The campaign brings to life Naked's challenger brand mentality, positioning it as "instant noodles without the instant regret".
Working with an integrated agency team the campaign is live across Naked social, influencer, outdoor and trade press. Each creative execution features an illustration by artist Justin Poulter. Across Naked's social and influencer channels, the campaign urges consumers to submit their loud and proud slurping escapades for the chance to get their face on the side of a Symington's lorry.
Christine Everett, head of brand at Symington's, said: "Naked has been one of Symington's real success stories and has enjoyed consistent growth for a number of years now. We've put in a tremendous amount of work to ensure the brand stands out against its competitors boring flavours, and with some of our products coming in at 750% and 250% less fat and sat fat than our rivals, we've got a lot to shout about.
"That's exactly what we're asking our fans to do as part of this campaign, Slurp Loud & Proud. Our instant noodles aren't for hangover days or secret snacks, they are a legitimate lunch choice for hungry noodle fans that you can eat in the open.
"This is our biggest ever marketing campaign for Naked and we're confident that with the visibility we'll get across the next two months and the amazing new products we've just launched, that we'll see some really great results."