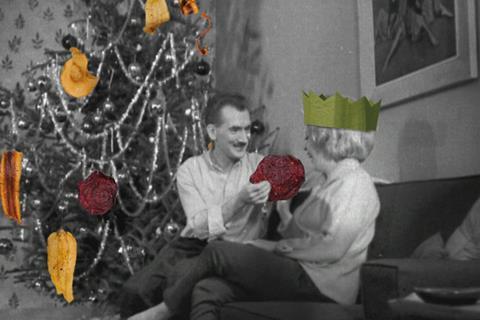 KP Snacks has announced that it will be supporting its Tyrrells range with a £1.5m marketing investment ahead of the Christmas period.
Tyrrells will be back on TV, featuring its Hand Cooked English crisps, but also for the first time, its Tyrrells Vegetable Crisps and new Tyrrells Nut Medley range.
The campaign will also feature in print and digital to drive momentum and awareness among consumers.
The Tyrrellbly Tyrrellbly Tasty TV campaign features old black and white Pathé footage overlaid with pops of colour and a Christmas twist, such as carol singers holding nuts or revellers dancing whilst holding oversized crisps.
Kevin McNair, marketing director KP Snacks, said: "The Tyrrellbly Tyrrellbly Tasty Christmas campaign is designed to drive awareness of Tyrrells while highlighting how it's the perfect snack for you to treat yourself, family and friends to over the festive period.
"However, at this time of year, it is extremely important to be able to successfully cut through all the noise that comes with the season. Our Tyrrells brand personality and style combined with the Christmas theme has enabled us to create some fun and engaging content while still landing our brand messages."