The Magnum ice cream brand has launched its ice cream tubs range in the UK using packaging made with recycled plastic, following a pilot last year.
As well as in the UK, Magnum has announced that the tubs will be rolled out across Europe in 2020 and globally in 2021.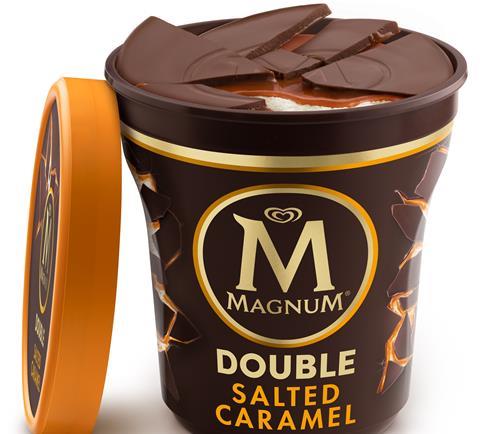 The change is being communicated on-pack with a new icon on all Magnum tub lids as well as well as directions for the tubs to be recycled once used.
Andre Burger, Vice President Foods and Refreshments, Unilever UK&I, commented: "We're proud to be the world's first ice cream brand to pioneer this ground-breaking technology. Through this new approach, we hope to lead the food and refreshment industry towards a more sustainable future.
"The new logo across all our tubs will help create awareness around our sustainability commitment and reassure Magnum lovers that they can indulge in a delicious Magnum ice cream while making a sustainable choice to reduce their environmental impact too."
The new Magnum RPP icon will be communicated across TVC, digital, OOH and POS.