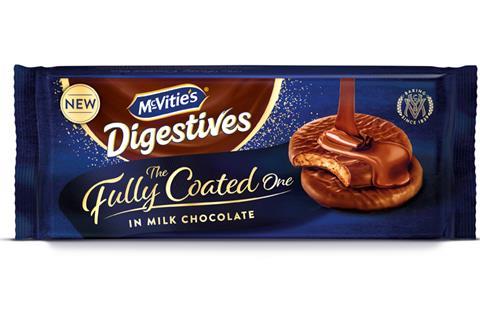 Pladis is extending its McVitie's brand into the special treats sub-category with the launch of its new, premium Fully Coated collection.
McVitie's Digestives The Fully Coated One and McVitie's Hobnobs The Fully Coated One will both be completely encased in the brand's milk chocolate.
Emma Stowers, brand director for McVitie's at pladis UK&I, said: "No biscuit aisle is complete without two of the most popular brands from our £457m McVitie's range, McVitie's Digestives and McVitie's Hobnobs. It's safe to say that McVitie's leads the everyday biscuits and everyday treats sub-categories thanks to these prominent brands.
"With the launch of our new, premium collection, we're building on the momentum we've generated for the two brands – which were up by 35% between March and September this year – and delivering an extra special version of the biscuits consumers already love.
"By launching our Fully Coated collection and adding an extra bit of indulgence to our bestsellers in this new format, we'll also offer shoppers the chance to enjoy their McVitie's favourites during even more moments of the day and make snack time even more special.
"We're confident the McVitie's Fully Coated range will be well-received in the market, particularly because this time, we're making two of our best-loved biscuits the focus. Given current circumstances, we also expect more consumers to prioritise affordable, at-home treats as we move into 2021."