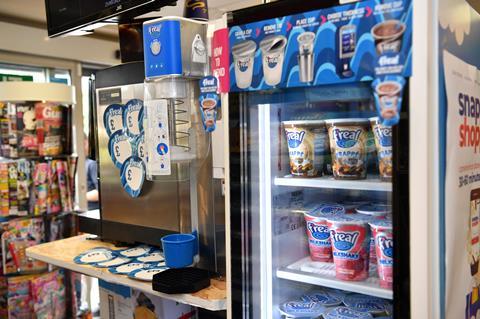 Milkshake brand F'real is celebrating a milestone with the installation of its 900th machine in the convenience sector.
With many out-of-home outlets closed in 2020 because of lockdown restrictions, dairy drink shoppers have turned to retail, with take home sales of dairy drinks up 8.4% in the past year, according to brand owner Rich Products.
Emma Wood, head of F'real EME at Rich Products, said with real ice cream and with the option to customise the thickness of the shake in-store, the blend-it-yourself frozen beverage had taken the UK by storm since launching in 2015. A recent survey found that 55% of consumers visit their local convenience store just to get their hands on a f'real, making it a top destination product. The brand claims a repeat rate of over 75% showcasing that once customers have had one, they are likely to keep coming back.
"We're over the moon to have installed our 900th convenience store machine in the UK, and it's only the beginning. We have lots of exciting plans in the pipeline, including NPD so that convenience retailers can offer their customers even more choice.
"Sales and new installations of f'real have remained strong during the past few months and our data shows that milkshake is seen as a year-round drinks offer, unaffected by the seasons or weather. Shoppers have been looking to their local independent retailers for a take-home or an on-the-go treat, and f'real, with its premium, restaurant-quality, is ideally placed to meet this demand. Unique in the market, it also offers a real point of difference for a store."
To become a f'reall stocklist, retailers can contact f'realsales@rich.com.