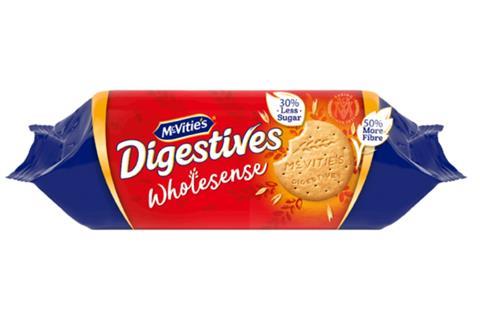 Snack company Pladis is expanding its biscuit portfolio with the launch of McVitie's Digestives Wholesense – a lighter version of the brand's £47m McVitie's Digestives.
McVitie's Digestives Wholesense aims to capture the distinctive, salty-sweet flavour of a McVitie's Digestive while offering shoppers added benefits such as 30% less sugar and 50% more fibre than the average digestive biscuit. The new reduced sugar recipe will be exempt from the government's upcoming HFSS (high fat salt sugar) restrictions.
This is the second launch in McVitie's lighter range, which debuted with McVitie's Rich Tea Delights earlier this year, an evolution of the brand's Rich Tea biscuits which contains 30% less sugar and 38kcals per biscuit.
"Our mission to help shoppers enjoy our portfolio of products as part of a balanced diet is already well under way," explained David Titman, marketing director – McVitie's at Pladis UK&I. "In 2020, we reduced sugar in nine of our bestselling biscuits – and took this a step further earlier this year with the launch of McVitie's Rich Tea Delights.
"Now, we're making it even easier for shoppers to tuck into their biscuit tin favourites, whether they are looking for an indulgent treat or something a little lighter. In fact, thanks to the added benefits they offer, McVitie's Digestives Wholesense are perfect for broadening choice in the biscuit aisle."
Research commissioned by Pladis shows that half of shoppers are seeking healthier versions of their favourite biscuits – with lower sugar and high fibre content coming up as two of the most resonant purchase motivators for sweet biscuits shoppers.
Titman continued: "Of course, plenty of us turn to the biscuit category for a little pick-me-up or a touch of indulgence, but for those looking for something healthier, we're continually seeking ways to extend our offering.
"By catering to evolving shopper needs and showcasing the diversity of the McVitie's portfolio, we're enabling more and more Brits to enjoy our biscuits – demonstrating that they don't need to be sacrificed entirely to enjoy a healthier lifestyle."
McVitie's Digestives Wholesense will be available in bright packaging which honours the recognisable colour and font cues of McVitie's Original Digestives, but with bold on-pack flashes to highlight the product's added benefits.