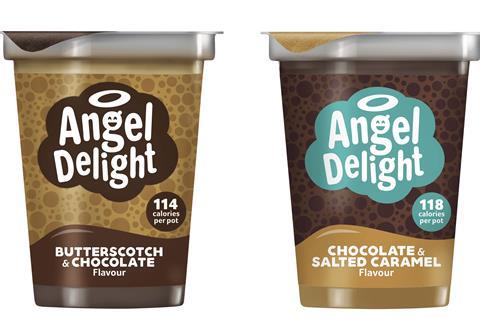 Premier Foods is introducing two ready-to-eat dessert pots from Angel Delight into the convenience and wholesale channel, designed specifically for Food to Go chillers.
Coming in chocolate and caramel, and butterscotch and chocolate flavours, the 100g pots are available now with an MRSP of £1.
Crucially for retailers, the products are classed as non-HFSS and have a long shelf-life, which is not only hoped to improve the range in food-to-go desserts, but also decrease wastage typically seen in this category. The packaging is also fully recyclable.
Premier's food-to-go manager, Ben Knop, commented: "These new Angel Delight pots are an ideal solution for growing the choice of desserts for consumers shopping Food to Go. They taste great and are light enough for those looking for a sweet treat without the guilt. Angel Delight is a well-known, much-loved brand and it has grown 10% in the last year1, bringing in 1.1m new consumers to the brand.
"This range gives retailers something new to broaden the choice of their food to go chilled desserts offering, while crucially remaining HFSS compliant and helping to grow the on-the-go desserts category. The light, bubbly texture and delicious flavours really appeal to shoppers looking for a light treat, while the convenient format and long shelf life make the launch well suited to retailers to bolster their sweet offering in their chillers."