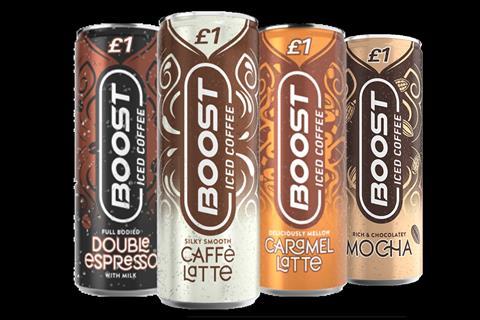 Ready-to-drink coffee brand Boost Drinks has expanded its range with a new Mocha flavour.
Developed with a blend of indulgent chocolate and South American coffee beans, the company says the Mocha flavour offers extended shelf life for retailers compared to other brands, and the £1 PMP format provides strong cash margins for retailers.
Boost Iced Coffee Mocha will complement the popular Caffe Latte, Double Espresso and Caramel Latte SKUs offered by Boost, which claims to make up for 75% of category sales within the independent iced coffee market.
The new flavour comes as the Boost coffee range continues to perform ahead of the category, according to the company, which claims that Boost Iced Coffee is now the number-one fastest growing RTD iced coffee brand in unit sales.
Adrian Hipkiss, marketing and international business director at Boost Drinks, said: "Next year we will mark our 20th year in the business in Northern Ireland, so seeing us fulfil our commitment to selling exceptional value products with no compromise on quality such as our new Mocha Iced Coffee is extremely rewarding.
"Iced drinks and iced coffee popularity has soared in Northern Ireland and we are very proud to own the second best-selling iced coffee brand in the region. Investing in new flavour development is key to staying ahead of the curve and ensure we're continue to offer high-quality functional drinks which we're confident this new Mocha flavour will offer."
He said research shows that 75% of the sales value within the RTD iced coffee market is made up of four flavours - Latte, Caramel, Espresso and Mocha. The addition of Mocha completes the set of popular flavours for Boost with the flavour being the fourth largest flavour segment in the iced coffee category, with an 11% market share.
To support the Mocha launch, Boost is activating a multi-channel marketing communications campaign across both trade and consumer formats, including PR and advertising. The new Mocha will be available in wholesale in 12 x 250ml cases.