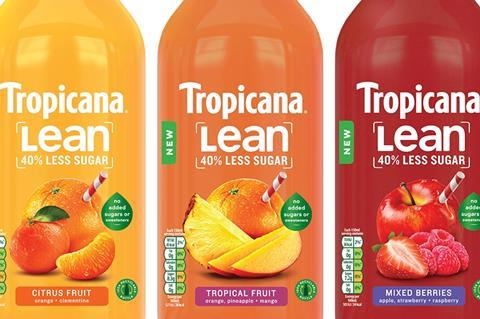 Chilled fruit juice brand Tropicana is launching a new range of juice drinks to offer wider choice to consumers - Tropicana Lean – containing 40% less sugar and 40% less calories.
It is also relaunching its functional juice range with a complete overhaul.
Tropicana Lean focuses on addressing sugar content, which is a key reason why shoppers leave the chilled juice category, particularly shoppers with families. The Tropicana Lean bottles will also be made using 100% recycled plastic.
Available this month, the Tropicana Lean range will be launched in three flavours: Citrus Fruit, Mixed Berries and Tropical Fruit, rrp £2.75.
Steven Hind, marketing director – Juices at PepsiCo, says: "Taste is the one of the most important purchase drivers for juice as people seek pleasure and enjoyment. But we recognise there's also a need to offer a wider product portfolio to meet changing shopper needs as 63.3% of shoppers claim that they are trying to restrict their consumption of sugar. The Tropicana Lean launch will appeal to those shoppers who are looking for delicious and convenient products, without having to compromise on taste. Early testing of the range included exceptional results with over 80% purchase intent."
Regarding the 900ml format Hind says: "We have seen a resurgence of take-home formats in the chilled fruit juice category as shoppers have turned to breakfasts at home with the family, with take-home juice growing at +14% during lockdown. Tropicana Lean is aimed at a family audience to share at the breakfast table, hence why we have decided to launch in a 900ml format."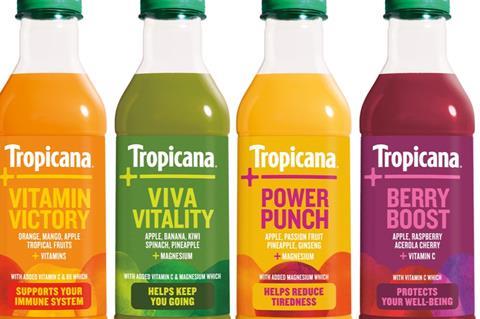 Meanwhile the overhauled functional juice range features a bold pack design, which highlights the functional benefits to shoppers more clearly. The new bottles are made using 50% recycled plastic, while the recipes have been updated to give the range a vibrant boost. The flavours include: Vitamin Victory; Berry Boost; Power Punch; and Viva Vitality.
Hind says: "Shoppers are looking for juices that contain added benefits, which is why the functional juice segment is currently seeing a +25% growth. Each of the new Tropicana + flavours – Berry Boost, Power Punch, Vitamin Victory and Viva Vitality – contain added ingredients including vitamins and magnesium across the range, providing clear functional benefits including reducing tiredness and supporting the immune system.
"Having conducted extensive consumer research, we're confident that the relaunch of our functional juice range will support this consumer demand, with clear communication on-pack and disruptive stand-out on shelf."
The new range will be supported by a heavyweight media campaign later this year, to drive awareness of the launch. Using the tagline "Juice For A Boost", the campaign will target younger shoppers, and will consist of video on demand, social media, in-store advertising and sampling activity.
Launching from this month, Tropicana + will be available all four flavours are available in the 750ml format, while the 300ml format will include Berry Boost (rrp: £1.99 and £2.99 respectively).