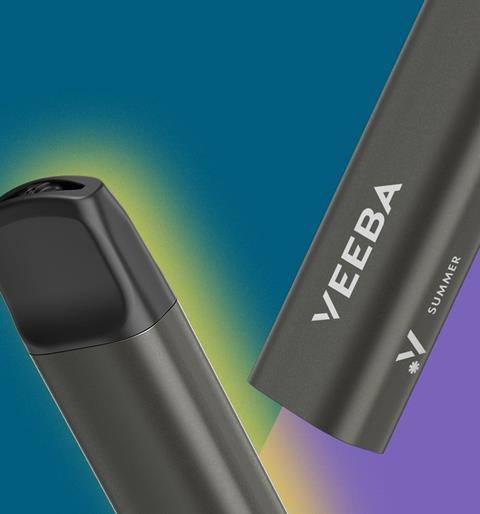 Philp Morris Limited (PML) is launching VEEBA – a premium and sustainable disposable e-vapour device, developed specifically for use by adult smokers and existing adult nicotine users who are looking for a better alternative to continued smoking.
Available in nine flavours, VEEBA's liquid is made from pharma-grade nicotine and food-grade flavourings, which pass rigorous scientific and quality assessments to ensure they deliver a consistent taste every time. VEEBA emits on average over 99% lower levels of harmful chemicals compared to cigarettes.
VEEBA's liquids guarantee a nicotine level of 1.8% (20 mg/ml), with each production batch receiving a Certificate of Analysis (COA) and subject to regular – and randomised – checks to ensure devices have the correct liquid composition and nicotine content.
The VEEBA Recycling Programme encourages users to dispose of used devices in a responsible and sustainable manner, with products cleaned and separated by material type, and then recycled into raw formats that manufacturers can use to make new products.
In accordance with PMI's strict marketing practices, VEEBA's packaging, device and flavour descriptors have been specifically designed to appeal to adult smokers only. As such subtle colours and functional flavour descriptors work together with PML's youth-access prevention programme, to focus on providing existing adult nicotine users and adult smokers with access to VEEBA.
Kate O'Dowd, head of commercial planning for PML, said: "PMI has invested $10.5bn in the research and development of a multi-category portfolio of smoke-free products since 2008, applying scientific methods – inspired by the pharmaceutical industry – to ensure that every product adheres to the highest manufacturing standards and strict quality control measures, with VEEBA no exception.
"VEEBA demonstrates that a responsible disposable e-vapour device can fulfil the needs of existing adult nicotine users and generate returns for retailers, all while striving for excellence in quality, compliance and sustainability. Retailers can feel assured that by listing VEEBA, they are stocking a smoke-free product that adheres to local laws and in many cases, strives to go even further."
VEEBA is priced at £4.99 per stick.