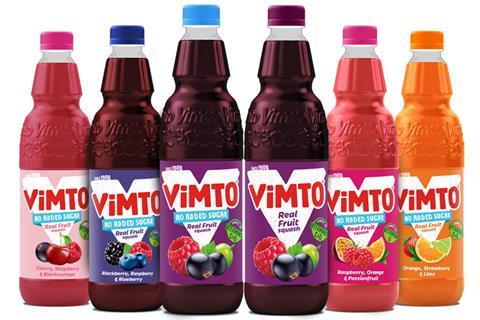 Vimto is re-launching its core squash range this spring, and will be fortifying the full squash portfolio with Vitamin D.
Vimto will also be introducing a new flavour, Blackberry, Raspberry and Blueberry. Available from this April, the launch follows the roll out of a new visual brand identity earlier this year across the entire Vimto portfolio.
Becky Unwin, senior brand manager, Vimto, said: "As part of our ongoing commitment to provide consumers with healthier choices, we believe vitamin fortification is more important than ever. Our innovation team have reimagined our core squash portfolio to ensure that not only do we offer those all-important fortified vitamins but also on-trend, super fruit, flavours. The inclusion of health credentials should never mean having to compromise on the flavour experience, so we are thrilled to re-launch our core squash range in this way.
"With 90% saying they would purchase our new offering, we couldn't be happier with how the new design and fortified recipe performed during consumer testing. We place a huge amount of importance on ensuring that any new Vimto variant serves to fill a gap in the market, whether that be from a category, flavour or benefits perspective, and we believe our new squash range does exactly that."