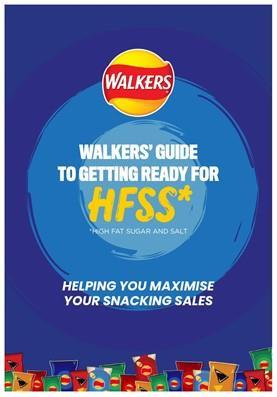 Ahead of the new HFSS (high fat salt sugar) legislation coming into effect this October in England, crisps brand Walkers has issued a new digital guide to assist retailers in navigating the implications for the savoury snacks category.
The guide is intended to help retailers understand whether they are likely to be impacted and includes information that Walkers hopes will help them to take appropriate action for their stores while maximising their savoury snacking sales.
The guide will also become available in different languages, including Punjabi and Hindi.
In support of the guide, Walkers will be releasing a 'Walkers Hub' on shopt – a dedicated area for convenience retailers.
A crisp display generator tool will be available, providing retailers with bespoke crisp layouts for their shelves, by entering a few simple details about their store and shoppers. Retailers also have the opportunity to earn 'rewards' for stocking specific Walkers Hero 25 products (Walkers' list of best-selling SKUs) and merchandising display support via the shopt app.
In addition, Walkers will be applying labelling to product cases, offering guidance to retailers on whether the product is non-HFSS and where best to position in-store.
Kirsten Reid, impulse category management channel lead for Walkers' brand owner PepsiCo UK, commented: "Our focus right now is on helping retailers to navigate and prepare for the upcoming HFSS regulations. Our digital guide will focus on snacking growth strategies and includes dos and don'ts and handy visuals too.
"First, concentrating on maintaining space of best-selling products in the main fixture. Second, maximising off-fixture displays in high traffic areas around the store which will help drive impulse purchases. And finally, supplementing both with reformulated or new non-HFSS products from well-known and trusted brands that deliver on taste and health needs. We also recognise the implications of the new regulations and the associated complexities and are therefore heavily investing in our teams to ensure that they are well equipped to provide tailored assistance.
"Here at Walkers, we will continue to offer a balanced portfolio of crisps and snacks that don't compromise on taste, retaining focus on our much loved and best-selling product ranges such as Walkers, Walkers Max, Quavers, Cheetos, Wotsits and Doritos. To complement this, we've introduced several taste-led non-HFSS lines which we believe will work best in this channel, including: Walkers Oven Baked, Walkers Max Strong, PopWorks, and Walkers 45% less salt."