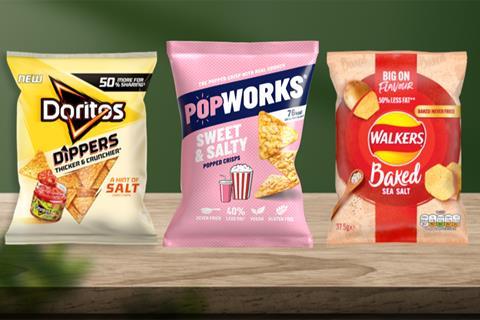 Walkers has revamped three of its ranges – Walkers Baked, Doritos Dippers and PopWorks – to become non-HFSS (high fat salt, sugar).
The company said the new products, coupled with the nationwide roll-out of PopWorks, show its dedication to increasing choice across better-for-you snacking options without compromising on enjoyment. It is also a step towards its ambition for half of its snack sales to come from non-HFSS alternatives or from products sold in portions of 100 calories or less, by 2025.
The changes are part of a £35m investment (over the next three years), which sees experts at Walkers global R&D centre in Leicester innovating to reduce saturated fat and salt content without impacting flavour and taste.
Fiona Tomlin, chief marketing officer at PepsiCo, said: "We have taken some of our best-loved brands – PopWorks, Doritos Dippers and Walkers Baked – and transformed them to offer customers a wider selection of flavourful non-HFSS snacks. This is an important milestone in our long-term commitment to provide smart snacking choices, without compromising on taste.
"We're dedicated to bringing more choice to millions of UK consumers by offering a wide range of non-HFSS options. I am confident that consumers will enjoy these exciting products as much as their old favourites."