In this video, Adam Hacking, head of drinks at Arla Foods, reveals how you can fire up iced coffee sales
Iced coffee sits within the wider dairy drinks category, which is now worth over half a billion pounds in annual sales, more than 5% of total soft drinks category sales1. While a range of drinks fit within this dairy drinks category, including flavoured milks and protein drinks, its Ready To Drink Iced Coffee that is at the very forefront of delivering growth in this space - with UK consumers increasingly buying into this category to such an extent that it's now worth £225m - having grown a huge 38% over the last year2.
As such it's a sub-category that should be included within any retailer's soft drinks range but requires careful consideration as to how it sits within the fixture.
Where to stock it:
1. The RTD coffee category, including Starbucks®, should be sited within the soft drinks fixture, alongside dairy drinks and as close as possible to the energy category.
2. It's important to give RTD coffee lines appropriate space within the soft drinks chillers, with multiple facings a key way to encourage a purchase.
3. RTD coffee is an ideal addition to meal deals and linked purchases, so use PoS and signage to highlight your chilled coffee range to drive sales.
However, despite its huge level of growth, less than half of convenience stores currently stock these lines on an ongoing basis, which means many retailers in the convenience channel could be missing out.
To maximise your Iced Coffee sales, you need to stock the best-selling products. Starbucks Ready to Drink Chilled Coffee account for around half of all Iced Coffee sales and is the clear brand leader in the category. It continues to be the main driving force behind category growth, adding £28m in incremental value sales over the last year alone3. That means the Starbucks RTD Iced Coffee brand is now worth more than £110m in annual sales, that's more than 4 times bigger than its nearest competitor4. So, it really is one of the wider soft drinks category's biggest success stories.
Starbucks must stocks:
Doubleshot:
· Starbucks Doubleshot® Espresso (RRP £1.70)
Chilled Classics:
Starbucks® Chilled Classics Caffè Latte (RRP £1.70)
Starbucks® Chilled Classics Skinny Latte Lactose Free (RRP £1.70)
Starbucks® Chilled Classics Caramel Macchiato (RRP £1.70)
Starbucks® Grande Caffe Latte 330ml (RRP £2.35)
Starbucks® Grande Caramel Macchiato 330ml (RRP £2.35)
Frappuccino:
Starbucks Frappuccino® Caramel chilled coffee (RRP £1.90)
Starbucks Frappuccino® Coffee chilled coffee (RRP £1.90)
Starbucks Frappuccino® Mocha chilled coffee (RRP £1.90)
Plant Based Chilled Classics:
Starbucks® Oat Based Vanilla Macchiato (RRP £1.70)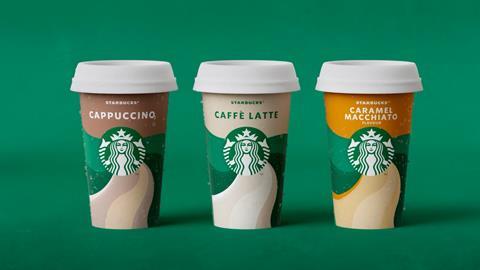 Top Tips to increase category awareness:
1. Use PoS front of store and at the fixture to grab shoppers' attention. Starbucks® can provide retailers a full suite of assets to help achieve this.
2. Retailers should ensure their range is reflective of their customers and have several facings of their most popular lines.
3. Consider executing a promotional plan throughout the year (including link and meal deals as appropriate) to drive rate of sale.
To share in the experience; please visit us in our stores or online at www.starbucks.com.
Sources:
[1] Nielsen Total Coverage to 26th March 2022
[2] Nielsen Total Coverage to 26th March 2022
[3] Nielsen Total Coverage to 26th March 2022
[4] Nielsen Total Coverage to 26th March 2