Pump Action: Your pumps, tanks and pipework are the backbone of your business so looking after them is paramount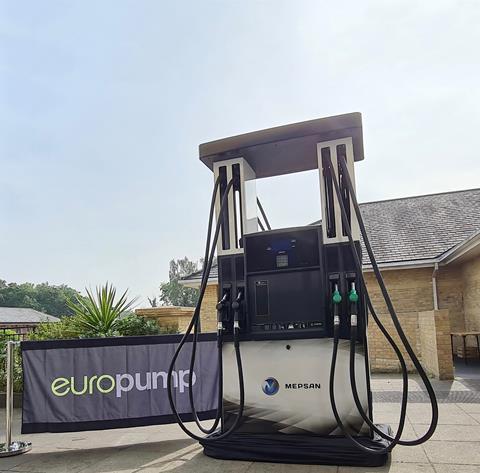 A new name in fuel pumps is entering the UK this year thanks to Eurotank Service Group's new deal with Turkish firm, Mepsan AS.
You may not have heard the name before but plenty of petrol retailers in other countries have, as Mepsan supplies 81 nations and its many customers include Total Global and BP.
A key feature of the Mepsan pumps are their robustness. Eurotank group managing director, Edward Wheeler, explains: "As Mepsan pumps are designed to be used around the world, they are able to pump dirtier fuel than we have in the UK and Ireland. This has significant benefit to our customers because the pumps are not fitted with low micron filters, which tend to block regularly in the UK due to biodiesel particulate. With the Mepsan range, we don't have to worry about all the pumps running slow when the temperature drops. This is a massive problem in the UK and has been a real headache for retailers since biodiesel was introduced in the mid 2000s."
Another feature is that some of Mepsan's pumps have an integrated vapour recovery pump and motor component. This single component contains both the pumping unit to pump the vapour recovered from the nozzle and the motor to drive the pump. This development removes the need for a belt between two individual components, which is standard in the industry. Wheeler says: "For a maintenance company this is a brilliant development as it significantly reduces lifetime servicing costs and improves equipment uptime. The cost of maintaining Stage 2 vapour recovery can be more than maintaining the rest of the pump so it's great to see Mepsan developing components to reduce that."
Wheeler says it's also great to be able to give forecourt operators more choice when it comes to pumps. Importantly, he adds that Mepsan offers good value for money when compared to other pumps currently on the UK market. Already Eurotank has a list of customers keen to trial the new pumps and if you want to see them in person, they will be on display at The Forecourt Show at the NEC in April.
Hose reach
When it comes to choosing new pumps, Adrian Beeby, sales director at TLM Technologies (the exclusive seller of Tatsuno dispensers in the UK), says the key features to look out for are hose reach, longevity, warranty, reliability and accurate metering. Versatility of hose configuration and module options such as payment terminal and multimedia also need to be considered.
"It sounds incredibly simple, but the reach of the hose is really important for customers and forecourt retailers. The longer the hose reach, the more able customers are to fill from any position on any side of their vehicle. Tatsuno dispensers have the longest reach of any standard dispenser at 4.5m, which allows customers, even with larger vehicles, to fill on any side – meaning it's super convenient and reduces queuing at the pump."
When looking for data on a potential pump purchase Beeby says it's a good idea to ask the manufacturer for any studies carried out 'in the field' rather than in a factory setting. "We know that Tatsuno dispensers have superior reliability compared to other producers as comparison studies have been carried out in the most hostile environments in the world that prove their superior reliability; from the huge start/stop cycles with small transaction values in Asia, with all the mopeds and Tuk Tuks, the intense heat of Africa and the Middle East, the extreme cold of Russia, right through to non-stop use on the busiest truck stops in the world; wherever you install a Tatsuno dispenser it won't let you down."
Beeby also points to long-term studies that show that the high-quality Japanese hydraulics in Tatsuno dispensers provide "outstanding metering technology", with no calibration needed after 12 million litres throughput. "An inaccurate meter can cost sites thousands of pounds every year, and even after readjustment, can quickly be over-measuring again. The design and materials used in Tatsuno meters ensure the accuracy and longevity, regardless of the volumes or types of fuels and additives."
In addition, Tatsuno dispensers can be modified and retrofitted in the future with new technology. Beeby says retrofitting Vapour Recovery Stage 2 is very easily done on site.
When it comes to the dispensing of fuels, ATC (Automatic Temperature Compensation) can make a real difference. Dan Gibson, wetstock manager at the Suresite Group, explains: "Traditionally fuel is dispensed by volume. Due to the properties in fuel, it contracts and expands due to temperature. So, in the summer months, if you sell by volume then you'll end up giving away more fuel as it will expand, and then less in the winter as it contracts. ATC allows for fuel to be dispensed by calorific value rather than volume. Suresite can analyse a site's throughput and fuel temperature and calculate the impact implementing ATC would have."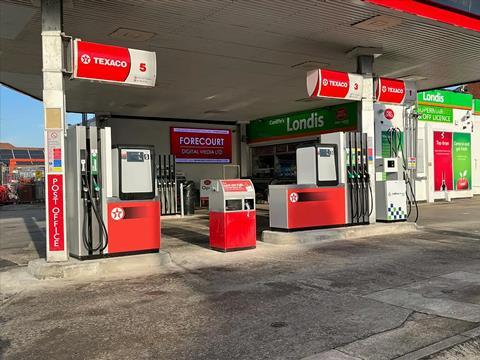 One forecourt retailer who looked into ATC was Jonathan Cunliffe of Cunliffe's New Road Garage in Blackpool: "When we were sourcing new pumps for the site we looked at ATC as it has the potential to reduce temperature-related losses and improve profitability. With no way to understand the effect of temperature in our tanks we contacted Suresite to see if they could assist as we are on their real-time wet-stock monitoring service. They had all the temperature and sales data needed by transaction so were able to carry out a viability assessment to see if ATC would be suitable for us.
"The assessment determined that not only was the temperature in our favour, but that the throughput was very consistent. One of our concerns was that being in Blackpool trade during the winter months would be lower than in the summer months and negate the effect of ATC. With the assessment complete we were confident that ATC-equipped pumps were the right way to go."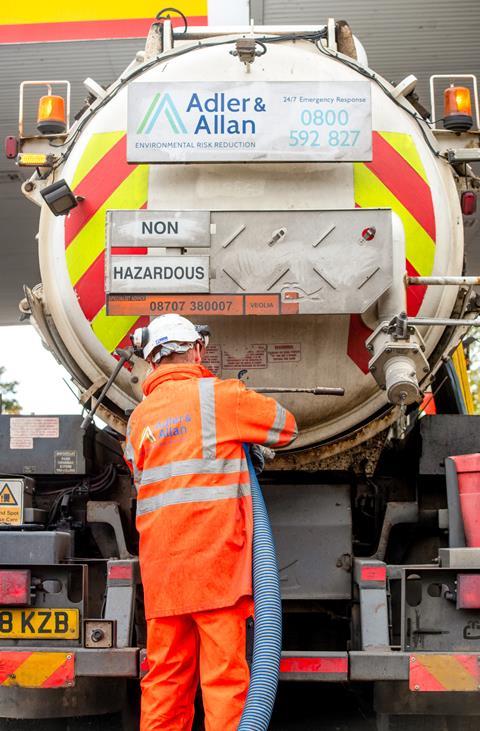 Advice on changing grades
Mark Sluman, head of forecourt services at Adler and Allan, says that with the phasing out of diesel and petrol cars starting in 2030, the industry is already seeing a shift in ownership from diesel to petrol vehicles. "Changing diesel tanks to E10 will have a significant impact if they aren't reconfigured properly. Issues could include complete fuel and tank contamination issues, blocked filters, and the tank may require re-lining before accepting the new fuel. Before converting a fuel tank from diesel to petrol it is recommended that you clean the tank, as diesel can contain a lot of sludge which can come up into the petrol causing problems in your customers vehicles.
"It is also recommended that you undertake a process of water freeing your tanks. Petrol, with the increased volume of ethanol in the new E10 blends, is more hygroscopic, meaning it hangs on to water. This can be less efficient for your customers and can damage the environment if released, as traditional separators are not designed to filter these effectively."
In addition, Sluman says that all grades of fuel are open to deterioration which can cause issues with your assets as well as your customers' vehicles. "Fuel testing can identify problems before they arise or isolate an issue following a query from a customer. A specialist environ-mental partner will have the expertise to take fuel samples and if identified as off spec, polish the fuel, clean and inspect the tank, and undertake any remediation work to reduce the risk of further problems."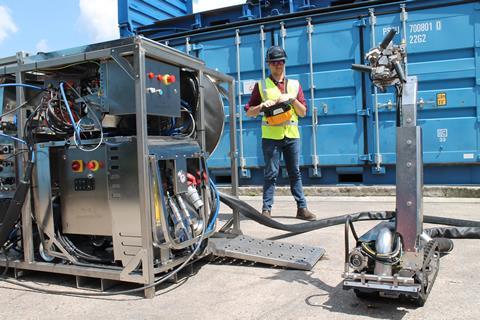 Eurotank Environmental's robotic solution
Eurotank Environmental introduced a new method of tank cleaning last year – a remote process using a robot. The Zone 0 tank cleaning robot is the company's biggest-ever investment to date and enables Eurotank to offer a remote tank cleaning service that is every bit as effective as manned entry, reducing tank downtime because cleaning is 45% faster than man-entry methods.
Alex Lis, Eurotank Environmental's operations director, says: "We're really excited to be able to offer robotic tank cleaning. Some customers do not allow confined space entry and traditional methods of remote tank cleaning are not always as effective as manned entry – until now. Safety is our priority and while our engineers follow stringent safety protocols during confined space entry, robotic cleaning systems are setting new safety standards."
The company can combine robotic tank cleaning with its Fastliner tank lining system to provide a fully no-manned entry tank clean and lining installation on live forecourts.
The Fastliner tank lining system really lives up to its name, too. On one recent install in Liverpool, Eurotank upgraded two tanks in just four days, including site set-up and uplift of residual fuel, removal of the tank lid, complete manned entry tank clean and testing, Fastliner installation, full system testing, replacement of the tank lids and installation of the leak detector.
The speedy install was even achieved despite some unexpected challenges along the way. The team found damaged ducting from the tank to the shop and gauge cables that had been jointed in the duct with encapsulation kits, causing the ducting to clog up. Says Lis: "Upgrading two tanks in four days is impressive and testament to our highly skilled team. Even though we hit some unexpected challenges, everyone pulled together to get the job done to a high standard and in record time."