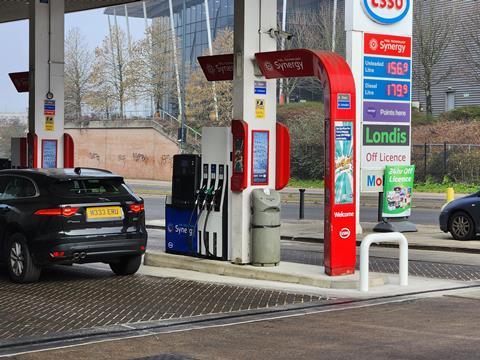 Top 50 Indie Highway Stops' Park Royal Service Station in north west London became the first forecourt in the UK to receive a full repump with four Mepsan Smartline L dispensers plus a Mepsan Cosmic pump for its HGV lane earlier this year.
The repump came courtesy of Eurotank Service Group's new deal with Turkish firm, Mepsan A.S. Mepsan may be new to the UK, but the company supplies 81 nations and its many customers include Total Global and BP.
As a busy inner city site, limiting disruption to trade during the installation was imperative. Tony Head, business development director at Highway Stops, explains: "It was critical we kept the site open because Park Royal's fuel volume is in excess of eight million litres per annum. We worked closely with the Eurotank engineers on-site and it worked really well with traffic well managed to make sure it flowed in and out."
The engineers blocked off half the pumps while the other two remained operational. After commissioning the new pumps, the rear lane began trading with the new equipment while Eurotank completed the rest of the site, resulting in as little disruption to trade as possible.
"The team on site was also very accommodating when fuel deliveries were coming in," says Tony. "It was all really efficiently managed and we ended up with new fuelling facilities without closing at all. From start to finish this was a fantastic project on our busiest site, where we felt investment was needed. The visual look and speed of the pumps is first class."
Pay-at-pump
Two pumps on the outside lane of the Highway Stops forecourt have integrated outdoor payment terminals (OPT). The site had been plagued by drive-offs at night-time, which had forced Highway Stops to shut off the outside lane in the evening and through the night, reducing the number of pumps available to customers. With the OPTs, the site can provide more nozzle availability to prevent queues building up and eliminate drive-offs. The OPT has a touchscreen pad for choosing pay-at-pump or pay-in-kiosk; along with a chip-and-pin card reader and contactless payment pad.
But drive-offs weren't the only reason for installing pay-at-pump, as Tony explains: "There is a percentage of customers that just want to get in and out of the site as quickly as possible so outdoor payment was something we wanted to put in the site. We're trialling this at Park Royal to see how it goes. It's the lane right next to the road so it's taken away the drive-off issue and given customers the facility to get in and out quickly."
"Fuel sales are already on the up," Tony adds. "The speed of the new pumps is fantastic so throughput is increasing just because of the efficiency of the pumps. And take-up of outdoor payment has been very good and it just creates additional nozzle availability at night time."
AdBlue addition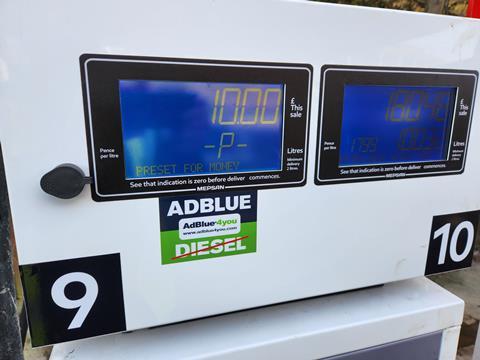 The location of Park Royal Service Station as the last petrol station before motorists get out of the trading estate and onto London's North Circular Road means it has a lot of diesel trade. And with more and more diesel cars requiring AdBlue, Highway Stops wanted to make it as easy as possible for those customers to refill the additive. The solution was to have two AdBlue nozzles for cars, in addition to one for the HGV lane. The Mepsan Cosmic HGV pump has a diesel nozzle on one side and AdBlue nozzle on the other, together with two meter displays. An AdBlue tank from GreenChem was also installed as part of the project.
"This is an upgrade on the previous service offer and it just means we can better serve our diesel customers as well as the large number of commercial vehicles using the dedicated HGV lane. We're still selling AdBlue cans for those who want them," says Tony.
James Hall chooses Tatsuno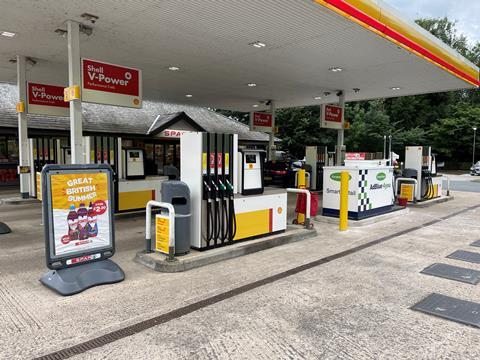 MADIC UK (formerly TLM technologies) is the exclusive supplier of Tatsuno pumps in the UK and has supplied over 200 since the company first introduced them onto the UK market in 2021.
Recently, James Hall Spar sites in Keswick and Whitby have both opted for a Tatsuno repump.
At the James Hall site in Keswick, they have six x eight-hose Tatsuno Tower dispensers, complete with VapourSensonic II VR2, automatic temperature compensation, Advance Sharp metering technology and enhanced 'Lite Touch' hose retraction. Also, an AdBlue twin dispenser for cars and HGVs.
Adrian Beeby, sales director at MADIC UK, says that since installation, fuel throughput has increased dramatically and there has also been a significant improvement in tank reconciliation due to the Advance Sharp metering technology.
Long hoses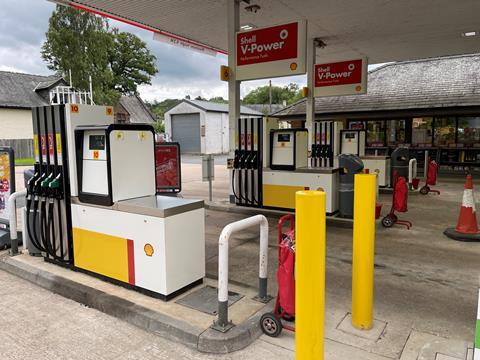 "Customers love using the dispensers as the hoses are so long and the hose retraction mechanism is silky smooth and easy to get the nozzle across to the opposite side of the car. In addition, the speed of fuelling is incredibly quick, which customers have commented on because it means they don't have to spend ages filling their tanks, so much so, that customers now prefer to fill rather than just top up," explains Beeby.
At James Hall Whitby, they have four x four-hose Tatsuno Tower dispensers, and Beeby reports there has been a similar increase in fuel throughput and improved reconciliation.
In Whitby, MADIC UK's in-house installation team took the old pumps off the site, made modifications to the pipework and installed and commissioned new pumps in just three days.
Mike Hiatt, installation and maintenance manager at MADIC UK, says: "Within our team we have the expertise to carry out all on-site works needed to repump, from adapter plates to commissioning, which is a real benefit to our customers."
Beeby says that generally the company's Tatsuno pump customers have reported more than a 20% rise in fuel volume sales. "They attribute this to fast dispensing which means less queuing which reduces the risk of people leaving without fuelling."
Low-cost pump solution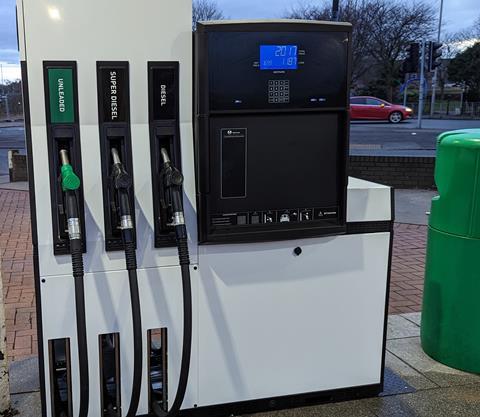 Obviously not every forecourt owner wants to invest in a full repump, which is why Eurotank is offering a low-cost solution for a quick replacement of ageing equipment with new Mepsan pumps.
The first install of this kind was carried out earlier this year at a site in Merseyside. The site closed on the Wednesday morning and was open again by Friday with three new Smartline L six-hose pumps for less than £30,000, including installation and removal of old equipment.
Jack Aplin, Eurotank's group sales director, says: "When pumps get old they usually become plagued by maintenance issues so we have come up with a concept that helps customers eliminate issues to keep nozzle availability high."
Things to consider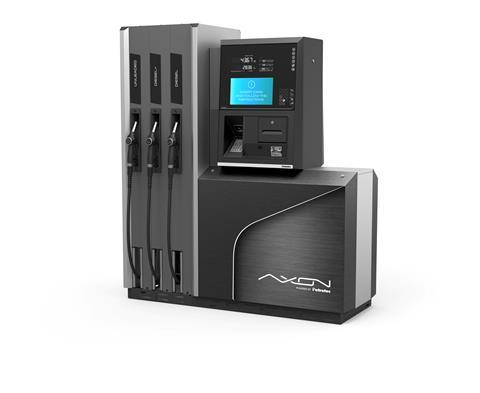 Barry Onions, head of sales at Petroassist UK, says there are several things to consider when selecting new pumps for your forecourt:
• Number of hoses – can you add an extra super grade to increase sales and profitability?
• Automatic Temperature Compensation (ATC) – installing ATC can help to reduce wet-stock losses and improve profitability
• Stage 2 Vapour Recovery (VR) – do you need to install it? If your petrol pumps are doing less than 3mlpa on an existing site you may not need to install this option. "Always check with your local environmental officer as this can be a costly mistake if assumptions are made on Stage 2 VR," says Onions.
• Media and pay-at-pump options – "These options can help drive your shop and fuel sales while also making your forecourt stand out from the crowd. Having a pump type that can add these options in future can also be extremely useful for extending operating hours etc," he continues.
• Maintenance and equipment support – "Installing equipment that is backed by a national maintenance company is extremely important for supportability of your equipment long into the future. We have all purchased items in the past where the price looked very attractive but then we find out at a later date that spares are very difficult, if not impossible, to obtain and there are few-to-no options for maintaining the equipment. 'Safety in Numbers' is something to bear in mind here as pump maintenance companies generally will not set up maintenance services for equipment that has a very small install base (less than several hundred pumps)."
He continues: "Equipment types that are proving popular currently are models that allow upgrading in future to media and payment options without having to purchase 'out of the box' and can grow with the customer. Petrotec's new Axon model is a great example of this kind of technology with future upgradability."
He adds that AdBlue installations for cars are also proving extremely popular due to margins on this product and the number of vehicles requiring AdBlue. "Installing a compact tank and dispenser on an island not only increases convenience for the customer but also reduces the amount of plastic waste."