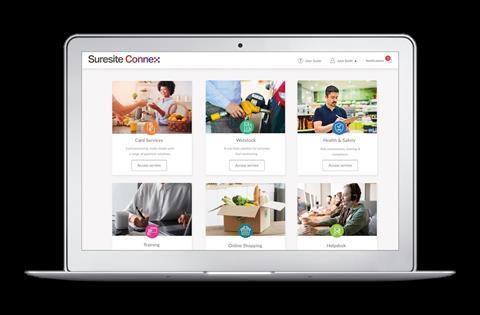 Retail technology specialist Suresite has launched an online marketplace so customers can manage their products all in one place.
Suresite Connex is described as a single marketplace of smart, integrated retail business services to help simplify a retailer's business, boost efficiency and give them the competitive edge.
Using the latest technology, the new marketplace has been designed to give customers the opportunity to manage existing products - card services, health and safety, wetstock and training - all in one place.
The company has also added new products aimed at helping retailers stay competitive and drive business growth, including integrated online shopping platform Appy Shop, which enables retailers to offer online shopping for local delivery or collection, which it describes as ideal for convenience stores and forecourts.
Suresite says it will soon be extending its expertise to provide back-office support to its customers. Suresite already carries out back- office support activities such as data management, cards payment processing and onboarding to some high-profile brands. Having seen the value it delivers for these brands, the company says this will be included as a new product in Suresite Connex, offering all Suresite customers the opportunity to discuss their back-office support requirements.
A new business performance insights product launching later this year is designed to help Suresite's card service customers understand more about their own customers in terms of their buying behaviour and spending patterns, with detailed payments reporting of trends and customer spend analysis to highlight growth opportunities.
This will help guide them in developing their strategy when it comes to improving their customers' journey, according to Eva Jones, head of product development and innovation at Suresite Group: "The world of forecourts has evolved significantly over recent years with a broader product range to sell, more suppliers to manage, a wider competitive market to consider and less time to focus on driving growth.
"This is where Suresite Connex comes in," stresses Jones, "providing choice and simplification to our customers by offering a collection of easily accessible value driving products all in one marketplace, liberating our customers' time to focus on the more value add activities, and providing key insights about their customer's spending patterns to help highlight the growth opportunities.
"This is just the start of our journey. Suresite Connex provides us with the technology to continue to evolve and innovate our product range and features to help our customers keep pace with the competition."