Toddington Harper, founder and CEO of Gridserve, is on a mission to make a difference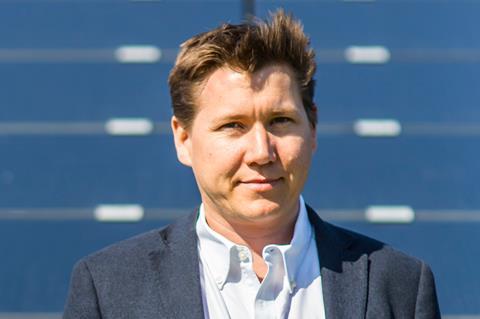 Toddington Harper is on a mission to do something really useful – for the planet. He is so concerned about greenhouse gases and global temperatures, and focused on the government's target of banning the sale of new petrol and diesel cars by 2035 (if not sooner), that he is fully committed to helping with one aspect of the climate jigsaw – the transition to electric vehicles.
He is the founder and CEO of Gridserve, which is currently building the first of a network of more than 100 'Electric Forecourts' to be developed in the next five years, as part of a £1bn programme to help make EV driving an enjoyable, ultra-convenient and stress-free experience. The project has been financed by Gridserve together with Hitachi Capital UK plc and Innovate UK.
The first site is being built near Braintree in Essex, and is due to open in November. The plan is that drivers will be able to relax or shop in a two-storey building which will house a range of facilities including a coffee shop, convenience supermarket, and airport-style lounge with high-speed internet and meeting rooms. The facility will also function as an education centre for electric vehicles and sustainable energy. Meanwhile the forecourt has space for 30 vehicles, and features a range of chargers that can deliver up to 350kW of charging power, including six Tesla superchargers.
"What we've basically come up with is a solution for the mass market," explains the charismatic Toddington, who admits to having an "extraordinarily bizarre" background. Not only did his late father Brian Harper build petrol stations 60-odd years ago, but he named his two sons after motorway service stations. Hence Toddington (M1) and his older brother Heston (M4)! Quite why was never properly revealed, nor why his middle name is Warwick (M40?).
However, what his father did next very much laid the background to the journey Toddington is on today, because when the oil crisis came along in the '70s, his father decided that oil wasn't the way to go. He moved into the sustainable energy business, and ended up quite randomly building solar and battery projects in the Middle East.
"That was the world that I was born into," muses Toddington. "So I've kind of been selling batteries most of my life."
Toddington says he took a very roundabout route to where he is now, spending years building sustainable energy businesses and looking at all sorts of energy projects such as hydrogen and fuel cells. For the past 20 years he has been building large solar projects. In 2013 he had a 280-acre solar farm, which he describes as one of the biggest solar projects in the UK at the time.
"What surprised me was how much fossil fuel it takes to make a solar farm," he says. "It's not a widely talked-about specific, but the majority is in construction - largely the vehicles which typically run on diesel. I thought - that can't be the answer.
"So when Tesla made the first modern electric car, I made the jump and in 2014 was one of the first people in the country to get one. The car was amazing, but at the time there was no infrastructure. As I'm quite active - building a lot of projects across the country - that led to a lot of challenges, some of which didn't always end well! It involved trying to charge on different kinds of infrastructure, chargers not working and so on…
"What it helped me realise was that for enthusiasts like me, that was OK, because I was doing it for different reasons to many people, and I was prepared to deal with the complexities. But for the mass market it just doesn't really work."
"So now I've gone full circle and find myself building something not too dissimilar to the service stations my dad built! However, we're not just building forecourts, but the energy generation capacity as well – the solar farms to generate the energy for this new network.
We call it 'sun to wheel' – harvesting the energy from the sun, using batteries that refine that energy and make it more valuable, and then delivering it to electric forecourts. Then also, via Hitachi, being involved in the supply of vehicles, which should also help to increase uptake.
"What's driving us as a company overall is to deliver sustainable energy and move the needle on climate change."
Through his own experiences with electric cars, Toddington understands how complicated it can be - how much charge and how many miles a vehicle can travel can be quite a variable number.
"It's extra complicated because the weather makes a difference. The speed you drive an electric car has a massive impact on the distance you drive and people need to get their head around that. Then there's temperature - the batteries can store less energy and put less charge into the cars when it's cold. There are lots of electric cars and they're not by any stretch of the imagination the same – they have very different energy requirements per mile. You can get anywhere from two miles per kWh up to 5-6 miles per kWh. It's all quite complex. What we're trying to do is simplify it all."
Toddington explains that the 'Electric Forecourt' is designed so that anybody can charge any type of electric vehicle, without worry, without anxiety, without stress: "They know it's going to work and will charge the vehicle as fast as it's allowed to. The surroundings are designed for you to hang around. It was designed from the ground up to address the needs of electric vehicle drivers. It's a combination of all our experience, to remove all the stress and headaches we've come across.
"But it's only part of the solution. The thing about electric vehicles is that they can be charged in lots of places, whether at home or in dedicated charging places.
This is part of the solution that is needed to give people the confidence to make the transition to electric. We know the government is banning the sale of new petrol and diesel cars by 2035. In the UK a lot of people don't have off-street parking so for them charging at home is not an option. If you can't charge at home, and the government says you can't by a petrol or diesel car, what option do you have? You'll need to charge your vehicle somewhere…
"We have 100 forecourts planned and we'd like to start ramping up quite quickly. We've got a large pipeline of sites, and we're looking at new ones as well – a mixture of greenfield and brownfield sites."
Toddington says the criteria the company uses for looking for sites is not wildly dissimilar to what the forecourt sector has been using for years, and is constantly evolving. The Electric Forecourt is designed to serve the local need, for people who can't charge at home; and on busy roads for passing traffic.
In terms of how busy the sites will be and how volume will build Toddington says the calculations are pretty conservative to start with but will build up over time.
"That's why it's important for us to have other income streams such as coffee and convenience," he explains.
"I'm sure in five years' time it's going to be a huge number! It's going to have to be to hit the government's target. For us over 100 forecourts is a fairly ambitious plan, but not in comparison to what the government has set forward!
Toddington says he has been working on the project around four years; but that it really started when he got into his first electric car in terms of all of the learnings, and building all of the energy as well.
"The forecourt is one huge piece of it, but that whole journey has been, I guess, my whole life, putting all the pieces of the jigsaw together. What makes me happy is being useful, and doing some good in the world. I'd be delighted to help other forecourt operators who want to put chargers in but don't want to take that risk. I'm very happy to take that risk because we have a very clear position.
As the opening of Gridserve's first Electric Forecourt approaches, Toddington says it's very pleasing to see people turning up to have a look at as it's being built, and asking questions.
"When it's finally open and I see people using it, I'll be happy!"