Could pizza-to-go be a sales winner in your store?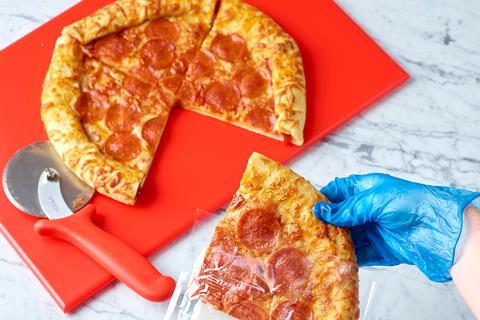 Such is the UK population's love of pizza that during the first Covid outbreak in January to April 2020, the most searched food and drink term on Google was 'pizza', closely followed by 'takeaway near me' then 'takeaways (Pi Datametrics).
So, if you're offering pizza as part of your food-to-go range and have linked up with Deliveroo or UberEats surely you're onto a winner?
A major pizza brand with a growing presence on forecourts is Chicago Town. Senior brand manager, Richard Cooper, says: "Chicago Town has had really positive feedback on our Pizza To Go feature, with successful trials in most leading forecourt operators. You don't often see pizza being served well as an on-the-go solution, with many operators struggling to hold it beyond one hour. Our pizza performs well in hot hold cabinets, holding for up to three hours using Chicago Town's self-serve packaging."
Welcome Break is just one of the brand's partners. "Branded pos material and packaging has helped to make food a real destination in-store, making it difficult for the customers to miss. Welcome Break has also reported on impressive month-on-month sales with excellent customer feedback and repeat purchases of the Chicago Town Food To Go offering," says Cooper.
When considering Chicago Town, he says it's important to start with what equipment you already have and see how pizza will cook in this to establish a clearer operational plan.
As the Chicago Town pizza is a fully topped frozen solution, it's low on kitchen labour. "Taking as little as three minutes to cook in accelerated ovens (such as Merry Chef E2s and Unox Speed Pro) it's a great addition to your food-to-go offer.
"For those retailers who don't have the space in existing hot holds or want a more dedicated pizza offer we do have a HAD50 countertop hot hold that can be purchased via Nisbets and can be branded with Chicago Town."
Chicago Town has a development chef who can put together the correct cooking instructions based on the ovens at the site; these can be put on laminated sheets which can sit back of house for staff to refer to. There are also two training videos available: one which covers serving Chicago Town Pizza To Go; and another focusing on the HAD50 hot hold and how to set this up.
The consumables – the pizzas and the self-serve packaging – are all available through wholesalers such as Bidfood and Brakes and regional ones too. The Chicago Town sales team can help retailers with a range of branded pos solutions.
The pizzas are served up in quarters or whole. Cooper says having this choice works well for different day parts – the quarters are great for lunch meal deals while whole pizzas are great for evenings.
Cooper says they usually recommend sites start with the favourites: Cheese and Pepperoni. "To establish the optimum range we work closely with operators to better understand their site cluster, which day parts they already win with and which they want to target for growth. Chicago Town offers a wide range of flavours, such as Chicken & Bacon and Magnificent Meat Feast which help attract more shopper."
They also have two vegan products which do well in urban locations where there is heavier footfall and a younger demographic.
Prices are at the discretion of the operator but typically range from £2-£3. "The operator would usually assess prices against the rest of their food-to-go range. We would expect most operators to get a profit on return of 50%-plus, helped by reduced waste due to a longer hold time offered from Chicago Town."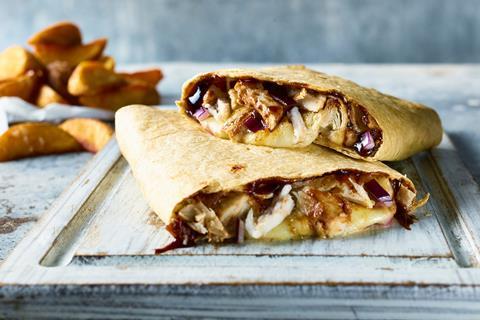 As well as pizzas, the Stone Willy's menu includes wraps such as the Flamethrower Melt (roast chicken, pepperoni, jalapenos, onions, cheese and chilli sauce) and the Bacon Cheeseburger Melt (spicy beef, bacon, cheese, onions and pickles with American mustard and pizza sauce). Other menu items include fries, wedges and chicken dippers
Delivering sales
Top 50 Indie Hockenhull Garages added a Stone Willy's pizza concept to its Corby site just before Christmas, alongside a milkshake offer. There was minimal shopfitting work and just one oven added. The focus was to grow sales of a brand that wasn't well known in the area. The concept was supported with sponsored posts on social media to drive people towards the order button on Deliveroo.
Managing director Joe Hockenhull says the site quickly broke the £1,000 mark of new weekly revenue, delivering a mixture of pizzas, wraps and shakes with some products offering 65% gross margins even when it was part of a meal deal.
Will Robinson, managing director of Stone Willy's, says there is no doubt that an increasing number of forecourts are using delivery apps. "There are two avenues shops can focus on: grocery and food to go. Delivery apps place you in a category so make sure that if you're serving food to go, you're not buried in the wrong category as people looking for pizza won't find you."
Robinson says one of the biggest advantages forecourts have over traditional food outlets are their opening hours. "Many takeaways do not open until 4pm yet sales data shows there are a lot of customers who would like their breakfast delivered or even pizza delivered for breakfast. We have one site in Edinburgh that does over £2K per week online serving customers when traditional food outlets are shut. An additional bonus is that forecourts can add their extensive drinks/confectionery/snacks to these online order platforms to increase the basket spend. The average order online is over £15 vs £4 in store, which is a huge difference."
Obviously with increases in the price of energy a hot topic, retailers need to be aware of how much it costs to run equipment such as ovens but Robinson says there are ways to save. "One of our customers was selling 65 pizzas a day using a two-deck flatbed pizza oven. It had great capacity (doing four pizzas at once) but was using 8.8Kw constantly. Using newer ovens that maintain a standby mode until you need to cook and have standby modes of 1Kw would save this customer £8.5K in energy bills in 12 months. There are lots of sites with griddles, panini presses and fryers that need to review their menus and their energy costs," he advises.
Variety packed in
Another store offering pizza among a vast array of food to go is the Forecourt Trader of the Year Food to Go category winner from last year, Supervalu Lisburn.
Food to go accounts for 10% of sales in the busy store. Sales for the category were up an impressive 25% last year and so far this year are up 20%.
The store was redeveloped in 2019 with an expanded food-to-go offering that runs along the whole left hand side of the store. The range includes the award-winning Frank and Honest coffee station, Taboo donuts, a sandwich/wrap/baguette and pre-prepared salad chiller, a rotisserie chicken station and a pizza counter.
Store manager Martin Reynolds says: "The most popular part of our food-to-go range is the breakfast menu, which includes sausage rolls, breakfast wraps and hot cooked breakfasts. It's closely followed by our lunch offering of hot meals, freshly made sandwiches and salads. Our customers appreciate that we make everything fresh for them and it suits their needs.
"The rotisserie chicken option, where customers can build their own chicken or pulled pork sandwich, whichever way they want it, for example with stuffing, gravy, sauce or crispy onions, is also very popular."
He says variety is hugely important. "Every day we showcase a wide range and different options to excite the customer, ensuring their repeat custom. However, we also maintain a consistent core offering. This all depends upon the time of week. For example, we have extra lunch offers on Thursdays and Fridays, and on Sundays options for Sunday dinners."
Martin says the team manages the food-to-go production efficiently, working to timescales for all the different elements.
"We keep records of products used and waste so we can establish the optimum quantity of food-to-go to produce. This helps ensure there is minimum waste."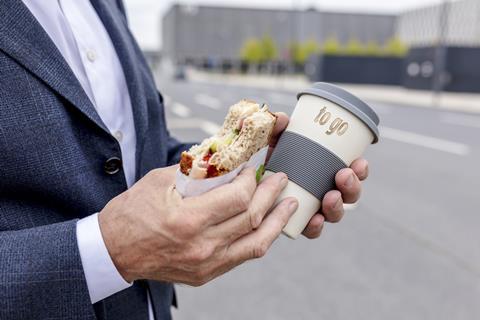 More food-to-go growth forecast
The UK food-to-go market is forecast to grow by 31.8% in 2022, to a value of £21.3bn, according to a new report from Lumina Intelligence. This would see it fully recover to and exceed its 2019 pre-pandemic market value and follows growth of 38.2% in 2021 (to a value of £16.2bn).
Key food-to-go channels including convenience and supermarket grab and go, coffee shop/cafés as well as travel are expected to exceed 2019 turnover in 2022. Branded traditional fast food is expected to have a slower recovery, with delivery gaining large proportions of key operators' sales mix.
Convenience store grab and go remains the largest channel in the food-to-go market, with a share of 28.3%, but the channel is losing out to higher spend food- to-go specialists as consumer quality expectations increase.
The report found that 30% of UK adults have a food-to-go occasion at least once per week with drink and lunch holding the biggest share of occasion by day part – with a combined 66% of occasions.
30% The number of UK adults who have a food-to-go occasion at least once a week (Lumina Intelligence)
Higgidy: a quality option
One food-to-go brand that's keen to make more headway in forecourts is upmarket pie, quiche and savouries firm Higgidy. Items already stocked by some forecourts include the twin pack rolls such as Feta & Red Pepper and Cheddar & Onion Chutney and the little quiches, varieties of which include Smoked English Bacon, Spinach & Tomato and Porcini Mushroom & Spinach. Rrps are £1.20 for the twin pack rolls and £2.60 for the little quiches.
Forecourt retailers can source the products from wholesalers including Booker and Cotswold Fayre. Point-of-sale material, specifically shelf-edge labels, is included via Booker when the products are on promotion.
Higgidy CEO, Rachel Kelley, comments:
"We believe that many motorists are looking for premium and tasty on the go options and with Higgidy they don't need to compromise on quality or flavour. The majority of the Higgidy range is veggie or vegan too so Higgidy offers a point of difference and caters for those who don't want classic meat options."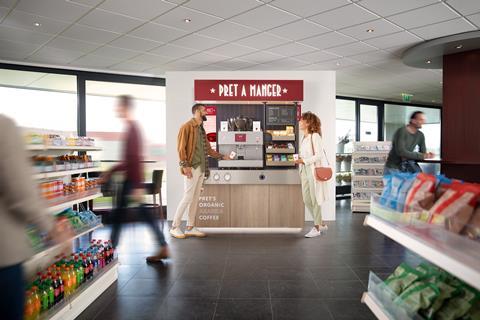 Pret Express to open on its first forecourt in Scotland
The hotly anticipated new Pret Express self-service, coffee-to-go solution is opening on its first forecourt, in Scotland, this month.
JDE Professional is providing the self-service technology, with bespoke furniture designed exclusively for Pret. Each Pret Express station will offer a wide range of slow roasted, 100% organic speciality coffees and fresh organic milk combinations, as well as teas. Each solution will create up to 21 drink recipes and everything is included: from ingredients to machine and housing installation, with each station having its own cashless payment terminal and service package as standard.
George Tuck, sales director UK&I, JDE Professional, says: "Today's consumer has grown accustomed to drinking a much higher quality cup of coffee wherever they go, including on the go. They know what they want, and how they want it for reasons of wellbeing, lifestyle or for indulgence. The future of coffee on the go in forecourts rests on their ability to leverage out-of-home coffee trends. Fundamentally, that's quality, taste, and value for money; delivered through the appeal of choice, ethical credentials, and the ability to customise drink options, extending to milk alternatives, and the use of flavour shots. There is still much headroom for innovation, through sourcing, format, and blends – watch this space for JDE Professional's plans."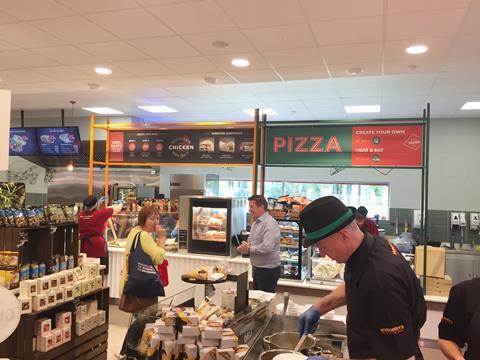 Supervalu Lisburn has an amazing range of food-to-go options