After lacklustre sales in 2020, Easter confectionery boomed last year and this year there could be even more growth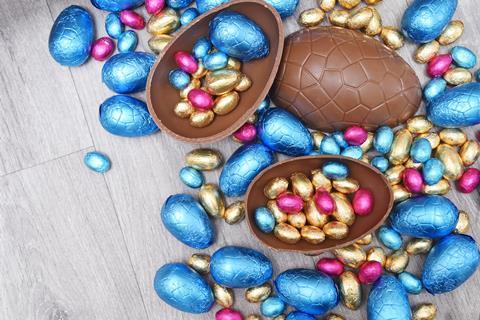 While Easter 2020 was a washout thanks to the first round of Covid restrictions, according to Kantar data, Easter 2021 was a boomtime for sales. Total Easter confectionery sales topped £373m, which was up nearly 26% on 2020 figures, and was even more than the £340m spent on chocolate in pre-Covid 2019.
Kantar splits the Easter sales into shell eggs worth £208m, novelties worth £110m and mini eggs worth nearly £56m. All sectors saw good growth with novelties up 42%, mini eggs up 27% and shell eggs up by more than 18%. And branded products took the lion's share of sales, worth £333m versus own brand's £40m.
When it comes to brands, Cadbury Creme Egg, worth £54m, is the number one brand at Easter (Nielsen) with three sold every second during the season. Once again Creme Egg is supported by promotional activity, which this year invites shoppers to find one of 200 special promotional half-white, half-milk chocolate eggs for the chance to win £10,000 – but only if they don't eat it. The 'How Do You NOT Eat Yours?' campaign is supported by in-store pos as well as online and outdoor advertising.
In addition, retailers who sell the winning eggs will receive a prize.
Building on the popularity of cream-filled eggs, Mondelez has a new product which contains five filled eggs: two Creme Eggs, two Caramel Eggs and one Oreo egg. Rrp is £3.14.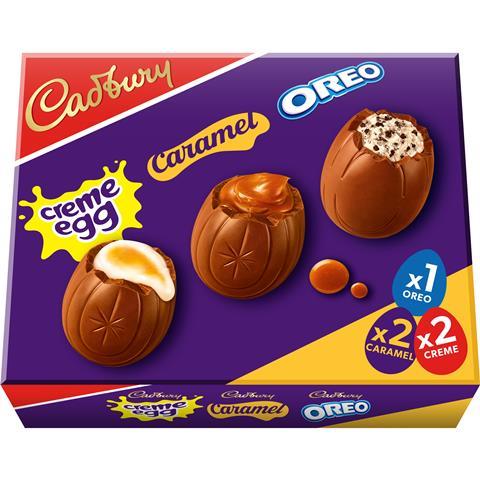 Another product that does well in the impulse, self-eat treat sector of the market is Maltesers Bunny, which brand owner Mars Wrigley says is the UK's most successful chocolate product in the novelty shapes category, in both value share and sales. Last year, Maltesers Bunny sales grew by 53.6% (Nielsen). The Orange version of the treat will be back this year while, following their successful launch in Tesco stores last year, Maltesers White mini bunnies pouches will be available in all major retailers. Sophia Padt, senior brand manager for Easter at Mars Wrigley, says: "We are confident that increasing the availability of the Maltesers White Bunny will see other retailers share the same success that made them the most popular small sharing NPD at Tesco last Easter." She adds that White Maltesers continues to be one of the most sought-after SKUs from Mars Wrigley, with consumers constantly requesting the product on social media.
Support for the Maltesers bunny includes a national campaign which gives shoppers the chance to 'find the bunny and win the money. "This impactful campaign helps drive foot traffic to the shops and in turn drives sales. This is a fun campaign that is designed to engage with consumers whilst supporting our retailers with in-store theatre around this important sales period," says Padt.
Total Thorntons novelties delivered 25% growth in value sales and 11% in volume sales between Easter 2020 and 2021 (Nielsen); for this year, the range of moulded figures is being relaunched with two new Happy Bunnies. The bunnies will have a refreshed look, with a more modern packaging design.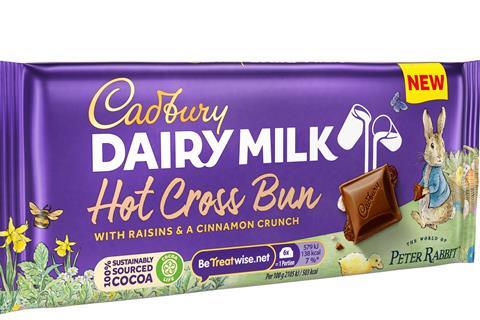 HOT CROSS BUNS - NOW IN CHOCOLATE FORM
Mondelez continues its Cadbury brand's partnership with Peter Rabbit, with the character featuring on the new Cadbury Dairy Milk (CDM) Hot Cross Bun Bar.
The company hopes the new cinnamon crunch-flavoured bar will become a staple flavour of Easter, as it taps into the popularity of hot cross buns. Susan Nash, trade communications manager at Mondelez, says: "Tablets are the heartland for the Cadbury brand, so this addition to the novelties range is sure to be a hit in-store." The new 110g bar is available in cases of 18, rrp £1.40.
The new launch joins the rest of the Peter Rabbit range for 2022, including CDM Egg 'n' Spoon with Oreo, CDM Bunny Orange Mousse and the return of the Cadbury Hollows chocolate range.
The range includes a White Oreo Hollow Bunny alongside the two standard CDM Hollow Bunny products, available in 50g and 100g formats.
FAST FACT - £373m The amount spent on confectionery for Easter 2021 (Kantar)
RETAILER VIEW
Priyanth Yoganathan, director at JP&S Services, says that on Valentine's Day and Mother's Day shop sales always increase. "For these occasions, we focus on ensuring that we have more availability of flowers, cards, boxed chocs and Champagne."
As for Easter, Priyanth says: "We offer a variety of Easter eggs, some are the same products as our competitors and some are different. However, we aim to offer more competitive prices on the products. We believe that pricing is important. We find that whatever the occasion, most customers focused on value for money."
SHELL EGGS
Susan Nash, trade communications manager at Mondelez, says the growth in sales of Easter eggs last year was driven by medium and large-sized eggs, as more shoppers chose to trade up. "Retailers can tap into this trend by ensuring they stock up on the best-selling large, medium and small eggs to create a range for every gifting occasion," she says.
New from Mondelez is the Cadbury Twirl Orange large egg which sits alongside the best-selling Cadbury Twirl Large Egg.
Also new are the Cadbury Creme Egg and Cadbury Fingers Gesture eggs which comprise one large shell egg and three Cadbury Creme Egg singles or three packs of Mini Fingers respectively. There is also the new Daim Heritage Egg, containing one shell egg and one Daim bar.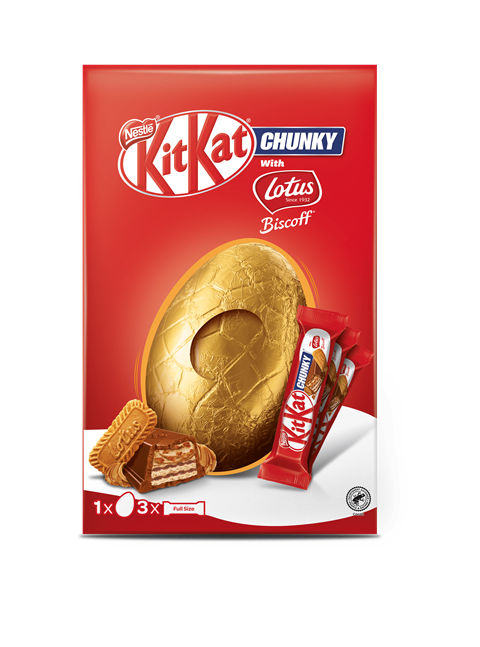 Over at Nestlé, there is the new KitKat Chunky Lotus Biscoff Giant Egg (rrp £7.49), which the company believes will become one of the' must-have gifts for Easter 2022. That's because this egg gives KitKat fans their first chance to try the new KitKat Chunky Lotus Biscoff, which will be coming to the UK market later this year. The newest Chunky flavour has wafer with a Lotus Biscoff filling, covered with milk chocolate. The Giant Egg comprises a milk chocolate shell egg alongside three full-size KitKat Chunky Lotus Biscoff bars.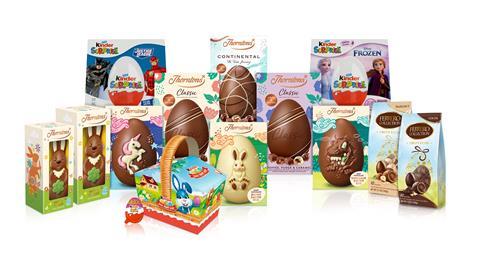 BEST SELLERS
At Ferrero, Levi Boorer, customer development director, says they are bringing back some of their best-sellers and have updated some of their seasonal favourites. "With a collection of brands that shoppers know and love, our Easter confectionery portfolio will help retailers to drive standout on shelf, encouraging an increase in basket spend. Our larger 220g Thorntons Classic Easter Egg can create trade-up opportunities in-store for those shoppers looking for something extra special before the big day, with these purchases often being planned in advance, while our smaller Ferrero Collection Crispy Eggs and similar self-treat products will drum up excitement earlier on as they tend to be a spontaneous decision while in-store."
While there is not a huge focus on NPD for this Easter (compared with previous Easters) one issue that is in focus is packaging. For example, Mondelez says that with regards to the Cadbury Easter range they are committed to ensuring improved sustainability with the majority of its packaging now recyclable across all its Easter products, with no rigid plastic. As part of the company's 'Pack Light & Pack Right' strategy, the plastic tamper stickers from egg multipacks have been removed along with remaining plastic elements across the range such as the spoon in Egg 'n' Spoon packs. Shell egg packaging carries the 'Be a Good Egg' message to encourage consumers to recycle the cardboard packaging after use.
The Mars Wrigley 2022 gifting range will also see continued packaging reduction, as part of the business's wider sustainability commitments. Mars Wrigley is reducing plastic by 95% on its Maltesers and Galaxy Luxury truffles eggs.
At Ferrero, the Thorntons brand's eight best-selling eggs' plastic windows have been removed as part of the firm's packaging commitment to make 100% of its packaging reusable, recyclable or compostable by 2025.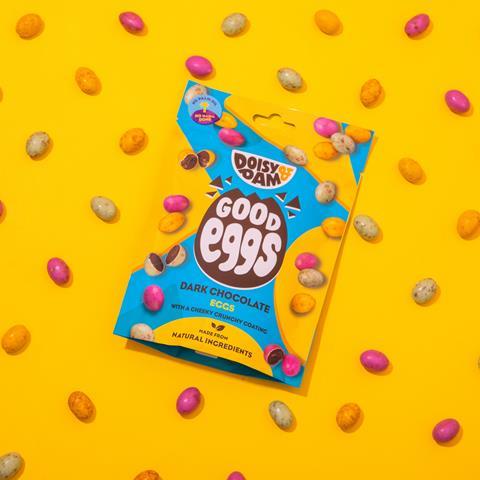 DOISY & DAM OFERS CHOCOLATE FOR GROWN-UPS
Doisy & Dam aims to create modern takes on nostalgic treats using the best quality dark chocolate, paired with better ingredients, but the same sense of fun, flavour and excitement. The brand was founded by childhood best friends Edward Smith and Richard Wilkinson, who promise that you'll never find anything hidden or artificial in their products. The pair believe the world could do with more chocolate, with better ingredients and better ethics. As such, all Doisy & Dam products are made with ethically-sourced dark chocolate, contain no palm oil, are made from natural ingredients and are Vegan Society certified.
Doisy & Dam is already stocked in over 2,500 stores and the company is aiming for 3,000 by the end of this year.
Ideal for Valentine's Day are Doisy & Dam's Dark Chocolate Truffles, which became a year-round product soon after their launch in 2020, due to popular demand. They are packaged in a cardboard box while each truffle is wrapped in a home-compostable wrapper.
Meanwhile, Doisy & Dam's Good Eggs are egg-shaped treats, made using 58% cocoa, Fair Trade chocolate, with a crunchy sugar coating.