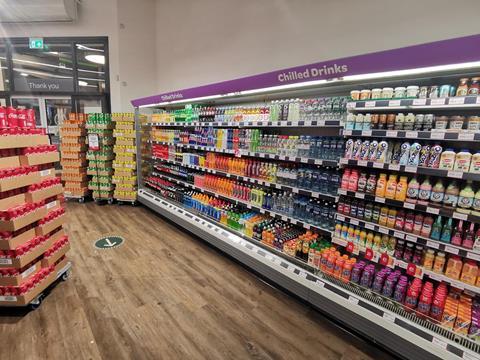 To say soft drinks are a big seller at Eurospar Donegall Road in Belfast would definitely be something of an understatement. Customers love soft drinks, confirms manager David Harrison, who added that they sell over £7,600-worth of impulse drinks and £5,000-worth of take-home drinks every week. The store is a great example of best practice in managing the soft drinks category, so much so that it was a finalist in last year's Forecourt Trader of the Year Awards.
"Ours is a busy store," says David, "that caters for the local housing estate, the nearby hospital and the university. We get a lot of people passing through and therefore a lot of people buying soft drinks."
He says the impulse drinks section is the busiest space in the store – right at the front and centre – where you will find all the big brands and where customers can also pick up a sandwich or snack from the hot food counter at the same time.
"Over 4,000 bottles and tins go onto our shelves and back out again and we pride ourselves on making sure that we always have 100% availability so much so it takes one person 10 hours to completely fill the section."
David says Coca-Cola, Pepsi, Fanta and Club Orange are all big sellers and customers love having so much choice on their doorstep.
"While people dropping in on their way to or from the hospital or university favour impulse drinks, multipacks of cans are favourites with customers from the local housing estate with over 500 packs of Coke or Pepsi passing through the store each week."
Taking action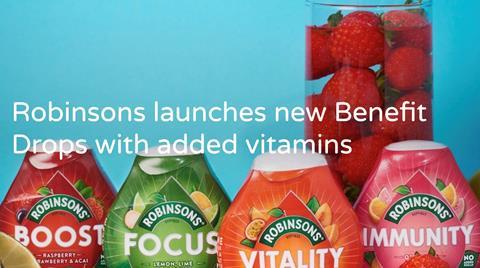 Not every store will enjoy the sales success of Eurospar Donegall Road but there are things retailers can do to boost their chances of selling more soft drinks, especially given the cost-of-living crisis.
Ben Parker, GB retail commercial director at Britvic, comments: "Consumers have been feeling the pinch from rising living costs and inflation this last year, with increasing numbers being mindful of the amount they spend. In a bid to make their money stretch further, these pressured shoppers are expected to move towards smaller transactions and smaller pack sizes. At the same time, we're also seeing a 'lipstick effect' where shoppers are switching from expensive purchases to treating themselves with smaller treats and indulgences.
"As inflation is set to continue, it's important for retailers to offer choice to shoppers who will all be impacted differently – there's no one size fits all solution. This should include a range of on-the-go options, in addition to multipacks and larger bottles, as well as price-marked packs (PMPs) as people will continue to look for value for money to help manage their budgets."
Parker says choice is important too when it comes to healthier products and explains that Britvic has a long history of helping people make healthier choices.
"Our innovation pipeline continues to centre around low- and no-sugar products which meet HFSS regulations and offer consumers better-for-you options as part of our strategy.  Our leading approach to low- and no-sugar reformulations has resulted in 90% of our portfolio – 196 liquids – already being HFSS compliant, all while maintaining our commitment to never compromising on taste. A recent example of this is the launch of Tango Apple Sugar Free and 7Up Free Cherry in 500ml bottles for the first time last year, so that people could enjoy the popular drink on-the-go. With the growing popularity of flavoured carbonates, both products meet the consumer demand for tasty sugar-free flavours."
Parker adds that the accelerated health trend has also created opportunities for wellness brands: "It's no longer just about removing sugar or calories from diets. Shoppers are on the look out for added vitamins or ingredients that can support both physical and mental health, from immune boosting benefits to those helping them to focus."
He points to Purdey's, which is low in calories, with botanical extracts and added vitamins. "Purdey's has broad appeal, making it perfectly placed to lead in the wellness drinks segment. Its ambition is to make wellness drinks accessible to more people, by aligning with current consumer trends and providing great taste. The brand delivers the important factors customers look for in functional soft drinks – clear benefits, great taste and healthier ingredients."
For consumers looking for additional vitamins while on the move, Parker says Robinsons Benefits drops in four flavours are ideal as each has an added benefit. Vitality is Peach, Mango & Passion Fruit with added vitamin B3; Immunity is Orange & Guava flavour with added vitamin C; Boost is Raspberry, Strawberry & Acai with added B6; while Focus is Lemon, Lime & Ginseng with added B3 and Zinc.
Sticking with 'on the move' and Parker says on-the-go drink shoppers spend on average £3.82 per visit vs lunch on-the-go shoppers who spend £6.37 (Lumina Intelligence). "Meal deals will give stores opportunities to offer bigger ticket propositions, tempting shoppers with recognised brands which have a strong appeal."
He continues: "With a wider set of occasions being undertaken outside of the 'top-up shop' and lunchtime 'food to go', it's vital that retailers think beyond traditional occasions within convenience. Developing these increasingly more prominent occasions – such as meal for tonight, breakfast and snacking – will be important in driving future growth. And as consumer needs evolve, it's important to cater to these changing needs with new food and drink pairings."
Packing a punch

Flavour innovation is crucial in keeping shoppers excited by soft drinks and at a time when the cost of living is rising, Parker says it's important to offer new products from well-known brands to help maintain basket spend.
Tango is an example of flavour success. Parker explains that 2022 was a "phenomenally successful year", which saw the brand grow to £77m retail sales value, which was 48% up on 2021 and cemented its position as the third largest flavoured fruit carbonates range (Nielsen stats).
Innovation and specifically new flavours have played a big part in the brand's continued success. Dark Berry Sugar Free was launched in 2021 and became the number one flavoured fruit carbonate that year and is now worth £13m and is still growing. Last year saw the launch of Tango Berry Peachy Sugar Free, the first of a new rotational flavour series. Since launch it has delivered £10.7m in sales and was the number one total soft drink NPD by volume in 2022.
Parker says the strength of the Tango portfolio, in particular the limited-edition flavours, showcases the opportunity for retailers to drive excitement among shoppers with a new and innovative flavour from a well-known and trusted brand.
Britvic's latest rotational flavour for Tango is Paradise Punch Sugar Free which is an orange, mango and tropical sugar-free blend.
Says Parker: "The rotational flavour series has been a huge success to date, showcased in the launch of Berry Peachy. It's helped us continue to recruit younger shoppers into the brand and, in turn, support with the driving of sales and footfall."
What's new in soft drinks?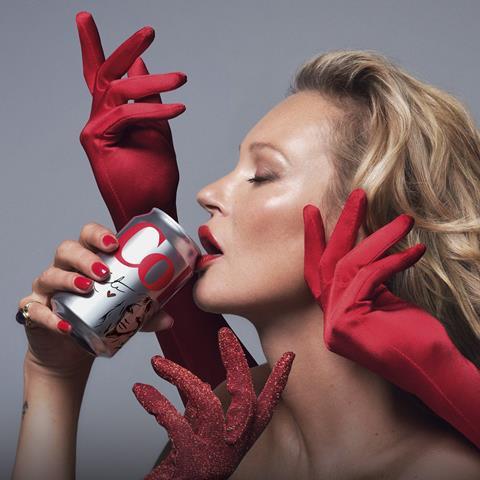 • Diet Coke's new Win What you Love promotion, in collaboration with 'creative director' Kate Moss, gives consumers the chance to access instant win prizes and weekly prize draws. Consumers can scan QR codes on promotional packs of Diet Coke that are illustrated with Kate Moss's portrait for a chance to win. Prizes include Moss's ultimate Diet Coke break experience, with an exclusive trip away to one of her favourite countryside retreats, alongside hundreds of cosmetic products from her new wellness brand 'Cosmoss' and retail vouchers. The activity runs until May 2.
• Frozen drinks brand Slush Puppie is now available as a fizzy drink. New Slush Puppie Fizzie is available in Blue Raspberrie and Strawberrie flavours, in 2-ltr and 500ml price-marked bottles, at £1.49 and £1 respectively. The 2-ltr bottle is also available in a plain pack format. Both flavours have no added sugar, contain only natural flavours and are HFSS-compliant. Brand owner Nichols Plc says that with a 50-year heritage and a presence in 40 countries worldwide, the launch of Slush Puppie Fizzie will help retailers generate excitement for their shoppers and maximise sales in the fruit carbonates category.
• Robinsons has unveiled a rebrand across its core squash, Fruit & Barley, Benefits and Minis. The brand, worth nearly £200m (Nielsen), is championing the 'real fruit joy' found in every bottle with a new look and feel that modernises it. The rebranded packs have a simplified design which features bold colours and sliced fruit to emphasise the real fruit, flavour and refreshment in each bottle.
• Totally tropical tasting Lilt has been moved into the Fanta family and been renamed Fanta Pineapple & Grapefruit. Brand owner Coca-Cola Europacific Partners says absolutely nothing about the drink has changed except its name. The change is being communicated via social media and out-of-home advertising, PR and influencer activity to reach the brand's loyal fanbase.
• Sprite has a new taste and look backed by a global campaign aimed at driving trial among 18-29 year olds. The new formulations deliver an "enhanced crisp lemon-lime flavour" across Sprite and Sprite Zero Sugar. The new recipes aim to further differentiate Sprite Zero Sugar from Sprite regular, with a lighter taste profile to accelerate sales of the zero sugar variant.
At Your Convenience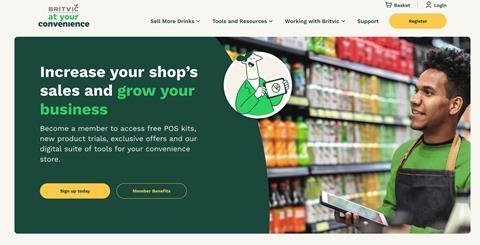 Britvic has launched a new website for retailers called At Your Convenience as it sets its sights on becoming the best partner in soft drinks for all channels and support the industry during challenging times.
The new website has been designed and built with retailers' needs in mind – using feedback from hundreds of retailers collated by an independent market research company. With a variety of symbol and independent retailers in the market, the website offers support for outlets whatever their size, location or sales volume, offering advice and tips on how to boost soft drink sales, information on the Britvic range as well as latest trends and insights. A dedicated trade contact will also be available for any retailer needing to speak to Britvic, ensuring they have the specialised support they need.
Know your shoppers' needs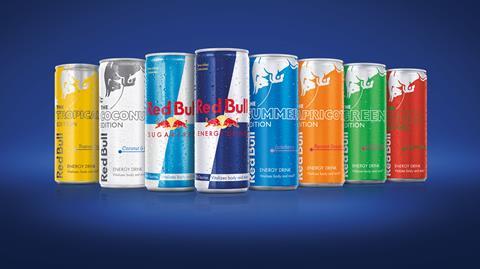 Every shopper need is different, so it is crucial that their favourite soft drink is available in a range of formats to help satisfy their immediate requirement.
Kantar data shows that two in three Red Bull shoppers actually go into a store knowing which can size they want to buy. And Red Bull is available in three different can sizes – 250ml, 355ml and 473ml – with each fulfilling a different role.
A Red Bull spokesperson explains: "Red Bull Energy Drink 250ml is ideal for on-the-go consumption, with 50% of 250ml shoppers drinking the can immediately after purchase. Whereas, one in three Red Bull shoppers are likely to consume the larger cans later in the day, with Red Bull Energy Drink 355ml linked to gaming, studying and socialising and Red Bull 473ml being the can of choice for all meal occasions, making it ideal for a meal deal offering."
Nielsen data shows that Red Bull 250ml sells more packs than any other single serve soft drink and drives the highest demand in the Red Bull portfolio so is therefore an absolute 'must-stock' for forecourt retailers. Additionally, Red Bull 355ml and 473ml are the top two fastest growing price-marked SKUs in sports and energy, +£8.9m (+24%) and +£7.4m (+18%) respectively (Nielsen).
Britvic's top tips for retailers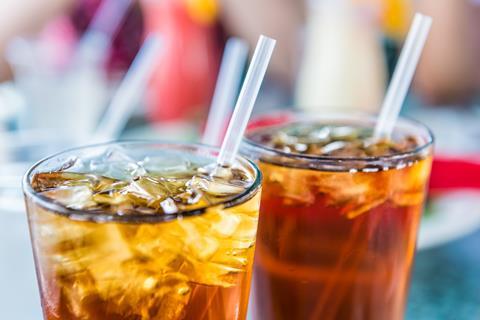 • Ensure that there is a sufficient range of reduced sugar drinks available, placed on gondola ends and fast lane checkout areas to attract a customer's attention and increase impulse buys
• In line with on-the-go growth, ensure that there are a variety of lunch meal deals, snack and drink deals or breakfast deals, at different points of the day, which will nudge your customers to buy soft drinks on more occasions
• It is important to cater to all customer needs, so offer a range of on-the-go and take-home products. If customers feel their needs are met this will ensure their loyalty to your store.
• Know your events – make sure you are aware of upcoming events, including key sports events, bank holidays and seasonal occasions. Ensure you are prepared with the right range and enough stock to keep up with demand, catering for all the family.
• Know which products are most popular with your shoppers – customers are more likely to abandon their entire purchase if the product they want is not in stock
• Ensure your store layout is easy to navigate so customers can find their way to where the soft drinks are located, which will create a better overall shopping experience