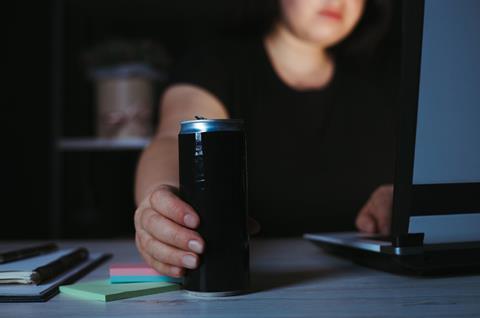 Prime is back in the news – for all the wrong reasons. Apparently some schools have banned the Hydration version after calling it a 'distraction' while the Energy version of the drink is being criticised for its high caffeine levels, particularly as so many kids are attracted to the brand. However, we all know the saying that 'there is no such thing as bad publicity', so we can expect sales to rocket further. Prime is much more widely available than it has ever been – every Spar store in the land seems to have it, for example.
One forecourt retailer, Lawrences Garages, rather cleverly managed to cash in on the popularity of the Prime energy drink earlier this year and raise money for charity at the same time. Director Ben Lawrence says they had queues around the block as people clambered to get their hands on the drink. He sold the drink for £2.99 a bottle with £1 from every sale donated to a local charity.
Today, with Prime more widely available, Lawrences Garages still stocks cans and bottles but Ben says: "We no longer have the queues we had compared to the start of the year but in certain stores Prime still out-preforms every other carbonated drink we sell."
However, Red Bull 250ml is still on top across the entire Lawrences' estate followed by Monster Pipeline Punch and then Red Bull 473ml and 355ml.
Interestingly they are also selling a lot of energy brands from abroad such as Mogu and Liquid Death. "We have a whole drop of 1200mm x six shelves dedicated to American or new drinks on the market," says Ben.
Big-brand energy drinks regularly carry activity linked to gaming and sports heroes and Ben says this works well for his stores: "We work closely with the likes of Monster and Red Bull, creating video content to display on our media screens in-store."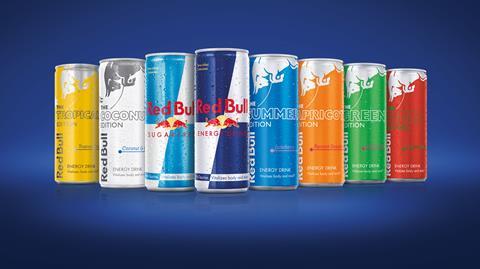 Signposting the category
Red Bull remains the signpost to the energy drinks category in stores thanks to its market-leading position. According to Nielsen data, it is the number one energy drink, growing at 17.2% and valued at £629m.
Red Bull Energy Drink 250ml is the 'original' and sells more packs than any other single-serve soft drink, while driving the highest demand in the Red Bull portfolio (Nielsen).
Having said that, Red Bull recognises that different shoppers have different needs and puts the continued success of the brand down to offering shoppers choice. That choice includes providing the original taste of Red Bull Energy in a range of sizes (250ml, 355ml and 473ml), with or without sugar, or broadening the brand's appeal with innovation around flavours.
A Red Bull spokesperson says: "Research shows that two in three Red Bull shoppers actually go into a store knowing which can size they want to buy, so it is crucial that their favourite soft drink is available in a range of formats to help satisfy their immediate requirement."
The company says Red Bull 250ml is ideal for on-the-go consumption, with 50% of 250ml shoppers drinking the can immediately after purchase. Other Red Bull shoppers like to consume the larger cans later in the day, with Red Bull 355ml linked to gaming, studying and socialising, and Red Bull Energy Drink 473ml is apparently the can of choice for meal occasions.
If you have the space, then multipacks are a good choice to make the most of stock-up missions and larger occasions. According to Kantar data, this year 1.2m shoppers bought a Red Bull multipack (+9% YoY) with the format now worth £26m in the impulse channel (Nielsen).
"Retailers should utilise energy multipacks to drive volume by increasing shoppers' basket spend, and trading up existing loyal buyers," says the Red Bull spokesperson. "More than half (51%) of Red Bull shoppers bought a multipack this year, demonstrating high levels of demand across the brand's buyer base for larger volume missions (Kantar)."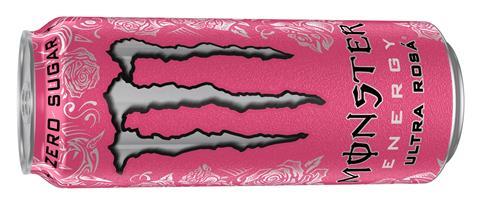 Innovation is key
Amy Burgess, senior trade communications manager at Coca-Cola Europacific Partners (CCEP), says innovation is key to increasing energy sales: "Innovation delivered 29% of all category growth last year (Nielsen), so making space in the chiller for the latest launches that are going to capture consumers' attention is key. Options like Monster Ultra Rosa and Monster Aussie Style Lemonade are key to making the most of the growing energy opportunity."
She adds that retailers should make plenty of room for zero sugar options, which are a key driver of growth. "Alongside our Monster Ultra range – the number one zero sugar energy range in GB (Nielsen) – our Relentless Zero Sugar range has added £7m worth of sales to the category since launching last year. Such has been its success, we have recently bolstered the range with another new flavour, Relentless Zero Watermelon."
Burgess also points to performance energy drinks – those with added benefits to fuel people during their workouts – which are growing in popularity with sales up 22.9% over the past year (Nielsen).
"Reign Total Body Fuel has led the way in the functional energy drinks space, accounting for more than half of value sales, firmly cementing its number one performance energy drink status in GB.
"All the products in the Reign Total Body Fuel range contain 200mg of naturally-sourced caffeine and are enriched with branched-chain amino acids (BCAAs), which can help to prevent protein muscle breakdown, and L-Arginine, which improves blood flow and stimulates the release of growth hormones. They also contain vitamins B3, B6 and B12, which may contribute to the reduction of tiredness and fatigue to a normal energy-yielding metabolism."
A new Mang-o-matic variant has been added to the range, which CCEP expects to drive more sales – especially given the popularity of the mango-flavoured variants in the Monster range.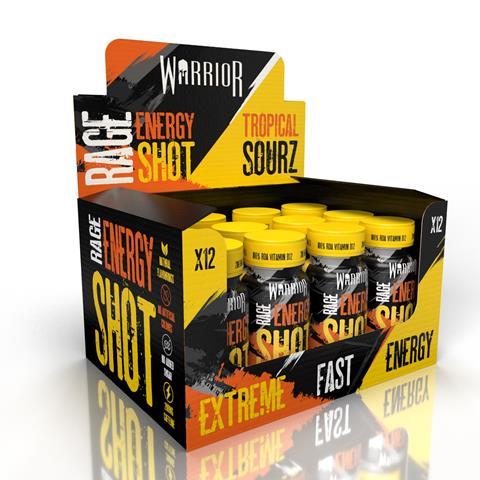 Warrior moves into shots
Sticking with innovation, something to keep an eye out for is the new Warrior Rage Tropical Sourz energy shots, especially as Euro Garages has already said they will be listing them.
Made by the people who gave us high protein bars and flapjacks, the Warrior Rage Tropical Sourz energy shots are described as a convenient, pre-workout shot, packed with 200mg of caffeine to help boost alertness and enhance workouts. They have the added benefit of "endurance-boosting" Beta-Alanine and contain no added sugar with just 16 calories per shot. They are designed to be taken daily, 15-30 minutes before a workout for maximum results.
Kieran Fisher, founder of Warrior and KBF Enterprises, comments: "This is an entirely new category of the sports nutrition market that we are entering, and we are confident that it will be a huge success with new and existing customers."

Whatever the weather
When the sun shines, sales of soft drinks grow and that includes sports and energy drinks.
Matt Gouldsmith, channel director, wholesale, Suntory Beverage & Food GB&I, says: "This was particularly noticeable during the heatwave of 2022, which saw an additional £65m (+13.4%) spent on soft drinks compared to 2021. During this period of hotter weather, Lucozade Sport saw value growth of almost 26% and just under 8% in volume growth.
According to Nielsen, convenience stores benefited the most last year when the temperatures rose and saw 5.4% overall growth."
Gouldsmith continues: "Spikes in sports drinks sales not only correlate with temperature increases, but also from national and international events taking place throughout the year. In fact, during the 2022 World Cup, the sports drinks category experienced incredible value growth of 40% and almost 11% volume growth compared to the same period in 2021. During this time, Lucozade Sport also saw almost 13% YOY volume growth.
"This suggests that shoppers were greatly influenced by the winter sporting occasion despite the colder temperatures, which means there's a great opportunity for retailers to maximise their sports drinks sales throughout the year, not just during the summer."
Earlier this year Suntory launched Lucozade Sport Zero Sugar. Available in Orange & Peach and Raspberry & Passion Fruit flavours, Lucozade Sport Zero Sugar contains sodium and vitamin B3 to help reduce tiredness and is available in 500ml bottles and four x 500ml multipack formats.
Containing only 4kcal per serving and zero sugar, Lucozade Sport Zero Sugar is designed to appeal to consumers who don't currently buy into the Lucozade Sport brand.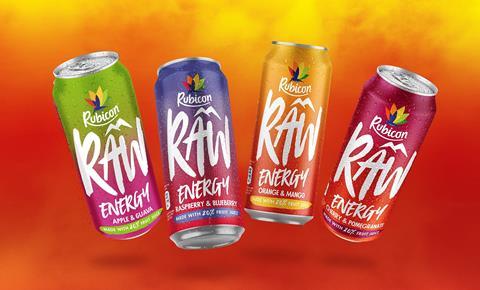 Changing consumer needs
Jonathan Kemp, commercial director at AG Barr, says there has been a shift in the demographic of energy drink shoppers over the years. "The category is evolving in line with changing consumer needs and demands, and energy is no longer the preserve of traditional young gamers.
"Due to this shift, successful brands must appeal to a broader range of consumers and retailers should be looking to build a range that suits many needs. TGI research highlighted that energy drinkers now have wide ranging interests. While some are gamers, they're also adventurous, active and career driven.
"Many energy shoppers have grown and matured but stayed within the category, so their needs have moved on and they are looking for drinks to help fuel a busy lifestyle."
AG Barr's energy range includes Irn-Bru energy favoured for its unique flavour. According to Circana data, Irn-Bru Energy is now worth over £3m and delivers incremental sales as half of its consumers buy it in addition to their normal energy product.
Its other energy brand – Rubicon RAW – has been driving incremental sales for retailers and bringing more shoppers into the category. A third of Rubicon RAW sales are from new entrants to energy, while 70% of RAW shoppers are making it a repeat purchase (Kantar).
Last November, the brand was named as The Official Energy Drink of GB Snowsport in a four-year deal, while this year sees the continuation of Rubicon RAW's partnership with Boardmasters festival as the official energy drink partner. This includes exclusive 'pouring' behind all festival bars, two experiential activations and handing out over 50,000 samples to festival goers.