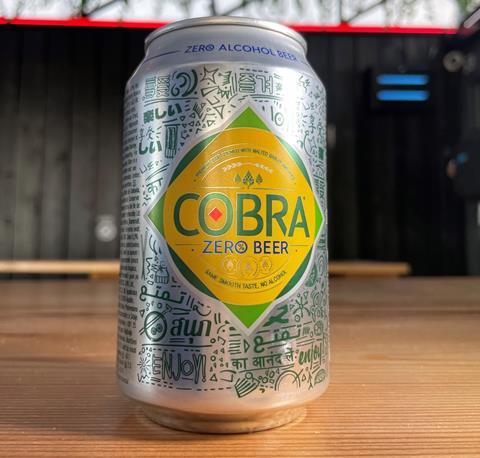 Molson Coors is launching a reformulated Cobra Zero with an improved flavour that matches the taste of the original Cobra lager, in a new can format.
Cobra Zero in 330ml cans represents a continued push to tap into the growing demand for both low-and-no-alcohol options and world beers.
The expert brewing team at Cobra worked hard to perfect the brewing process to deliver the taste the brand is known for, while achieving 0.0% alcohol – which is apparently significantly more difficult to brew than 0.5%.
The launch builds on Cobra's position as the biggest Asian beer brand in the off trade by sales volume (Circana).
The new 330ml cans share the same design that rolled out across the entire Cobra range in the summer, with graffiti style motifs which aim to appeal to a generation of urban foodies that are open to trying new cuisine, and a nod to its heritage as an accompaniment to Asian food.
The launch will be supported by a marketing campaign including digital advertising, paid social media activity and posmaterial to create theatre in-store.
Flick Jones, senior brand manager, Cobra at Molson Coors Beverage Company, said: "The number of alcohol-free occasions continues to increase as does the Asian lager market in the UK, so it's the perfect time for us to launch our new and improved Cobra Zero recipe, available in can format for the first time.
"We know consumers want zero alcohol lagers to still truly deliver on flavour, the new Cobra Zero does just that, offering the same smooth taste of our award-winning Cobra beer but with no alcohol."