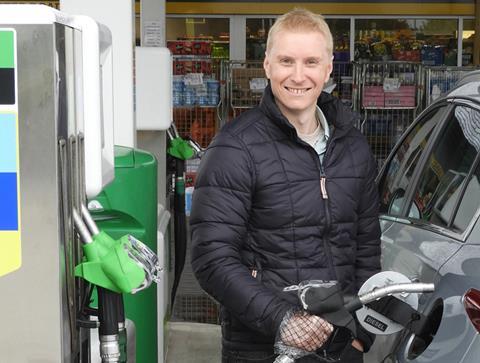 GripHero, the maker of static-safe hand protection and on-the-nozzle dispensers for fuel pumps, has launched a 100% recycled product to enable forecourts to cut their annual carbon footprint.
At just 7.22kg of CO2 per 10,000 protectors, GripHero's R100 hand-protection cartridges are made from recycled plastics and, according to Grip Hero have been independently verified to reduce the carbon footprint of forecourt hand-protection by over 87% piece-for-piece.
Combined with GripHero's single item release dispenser mechanism, which prevents blow-outs and clumps of protection being withdrawn, GripHero says the new development will enable forecourt owners to slash their hand-protection carbon footprint by over 94%.
Oli Yeo, managing director of GripHero, said: "From the very start, our goal has been to eliminate waste and to provide an alternative which means that forecourts can avoid the hugely negative environmental impact caused by both the manufacture and use of standard gloves.
"Cutting waste through a fault-free dispenser, allowing only one item of hand-protection to be withdrawn at a time was our start-point. Today, we have completed the journey through the development of ATEX-certified hand-protection created from 100% 'open-loop' recycled plastics. This not only complies with, but far exceeds the upcoming Single Use Plastics Directive. The result is the world's lowest CO2 footprint for hand-protection by a huge margin.
"Now, through the use of GripHero's R100 hand-protection cartridges, forecourt operators can protect their customers from bacteria, viruses, carcinogens, chemicals and foul smelling hands, at the same time as protecting the environment with a near zero hand-protection carbon footprint. We think that represents a great opportunity for forecourts to show customers how they are taking important steps to protect both motorists and the environment at the pump."