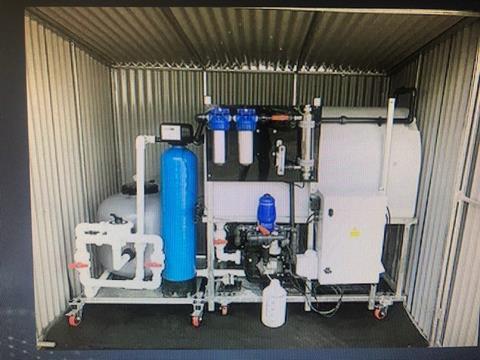 H20 Hand Car Wash and Valet has gained accreditation by the Responsible Car Wash Scheme (RCWS), while using its own patented water recycling system to clean customers' cars.
H20 owner Sean Ashwell applied his background in engineering to resolve a challenge with the supply, cost and environmental impact of wash water at his site in Newton Abbott. He developed a unique closed-loop recycle system that uses rain water over and over again. The system has been patented and the business recognised by the RCWS for 'offering a fair wash for all: fair to its workers, customers and the environment'.
When H20 Hand Car Wash launched in 2015, Ashwell knew he had to find a solution to reduce costs and lessen the environmental impact of cleaning up to 80 vehicles a day: the site had no mains water, no access to a foul sewer and a nature reserve within 100 metres.
The environment is an important factor in ensuring that car washes are compliant with the RCWS Code of Practice, which is backed by the Home Office. Car wash operators must hold a Trade Effluent Consent to discharge into a foul sewer. If there is no foul sewer, effluent must be collected for disposal offsite by a waste company or recycled, or cleaning must be carried out with methods that don't produce any liquid waste. The illegal discharge of trade effluent from car washes is, unfortunately, a common occurrence at many sites. Operators risk a fine and a criminal record if they are found to be discharging effluent illegally.
The RCWS aims to ensure compliance, improve standards, and give consumers confidence that they are choosing a fair car wash, by accrediting businesses that adhere to the RCWS Code of Practice.
Sean Ashwell, H2O, said: "I decided to undertake some internal research to see if I could resolve some of the issues we were facing. After a long period of development, the system was designed and used within the car wash with great success. Achieving RCWS accreditation shows our customers that we are serious about doing business the right way."
Teresa Sayers, managing director of RCWS, said: "H20 is a great example of a hand car wash that acts responsibly and has gone above and beyond to ensure it is compliant with all regulations that apply in this sector. The fact that they have resolved their water issues by inventing their own recycling system demonstrates both great resourcefulness and care. They proactively applied for RCWS accreditation and passed with flying colours across all aspects of the code of practice."
RCWS Accreditation requires the operator to meet and abide by the Code of Practice in full.
Consent to Trade and Trading Standards
Financial Transparency and Corporate Governance
Providing Safe and Hygienic Working Conditions
Protecting the Environment
Compliant and Ethical Employment Practices and prevention of worker exploitation