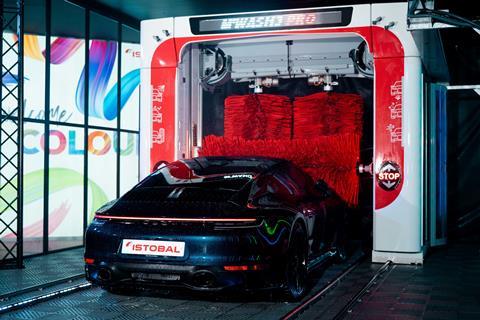 Istobal has launched the M'WASH3 PRO, a new high-end rollover that unifies its previous M'NEX32 and FLEX5 models. The new machine is designed to offer greater control and quality in car cleaning through more efficient and connected technology.
The M'WASH3 PRO wash and dry rollover will be available in three- and five-brush versions, with the latter reducing washing and drying time by up to 30% compared to the three-brush machine. Istobal says it is the only valeting company that offers the technology that allows a rollover to transform from three to five brushes in a simple and modular form. It has vertical brush inclination in two directions (lateral and rear) to ensure the best quality wash of any type of car
Its state-of-the-art software has an innovative user-focus design that allows the customer to see multiple available options for a wide range of programmes all on one interface, to maximise the average ticket price.
The machine incorporates flexible programming as standard to customise each washing programme and comfortably configure speeds, dosing system, light codes and other functions according to the customer's needs. It also has different options for high-pressure pre-washes, high-pressure wheel washes and brushes up to 21" in addition to the integrated infinite mousse foam arch.
The M'WASH3 PRO uses Smartwash Manager by Istobal to monitor the performance of the machine. Smartwash offers installation data and remote diagnosis in real-time to optimise operating costs and performance updates on the machine.
In addition, Istobal has upgraded its M'START model and unveiled the M'WASH2 which is described as being more flexible and more versatile than its predecessor.
It has up to 15 customisable programmes (previously it had six programmes) and can use Istobal's pre-wash insect remover and high-pressure rotating nozzles.
The M'WASH2 also has variable frequency for greater wash control, superior nozzles for better foam application to all areas of the vehicle, brush tilt and a wide range of high-pressure pre-wash and wheel wash options.