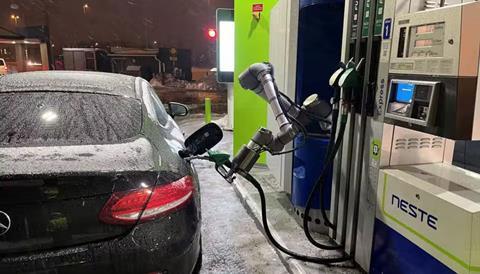 Danish-based Autofuel has come up with a robotic refuelling system that eliminates human involvement in putting petrol or diesel in cars. It believes the technology is needed to keep up with automated driverless cars.
Autofuel said it seeks to transform refuelling methodology at gas stations for the future with the help of advanced technology, to ensure comfort, convenience and safety for both customers and petrol station staff.
"Autofuel is taking the gas station to the next level of convenience and giving the gas station a higher income and a faster flow. Autofuel is making sure that the technology you will find at your local gas station is just as advanced as the one you arrive in," said Jonas Thor Olsen, partner and CEO of Autofuel.
He added that the Autofuel robot not only refuels the car, it also takes care of customer identification and payments without requiring any action from the customer. The system has been designed as an add-on to the existing dispenser, requires no modifications and still lets the customer refuel manually if needed.
"The refuelling of our cars is done just like it has been done for the past 70 years, and no major development has taken place. In the same period, technology has developed faster than ever, and today we have fast internet, smartphones, AI assistants and self-driving cars that will soon be on the roads. Gas stations with robotic refuelling can offer top-level convenience for today's customers and tomorrow's mobility, " Olsen added.