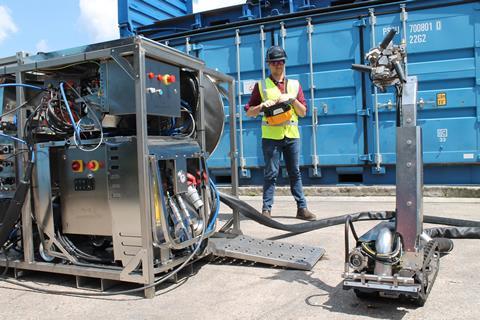 Eurotank Environmental is taking tank cleaning to the next level with the launch of an unmanned service using remote-operated robots.
Investment in two Zone 0 robots enables Eurotank to offer an unmanned tank cleaning service for underground and above-ground storage tanks that is every bit as effective as manned entry.
Eurotank claims to be the first company in the UK to offer robotic tank cleaning along with the ability to do all associated works such as tank lid removals and any required tank repairs or lining that involve manned tank entry.
The smaller of the two robots has been designed to enter tanks typically found on petrol stations and is controlled from a skid-mounted control unit, which is the size of a compressor.
The larger machine, which gives the industrial services team an additional method for de-gassing and cleaning bulk above-ground storage tanks, is controlled from a secure container, which will be transported to sites by a lorry-mounted crane.
Alex Lis, Eurotank Environmental's operations director, said: "We're really excited to be able to offer robotic tank cleaning. Some customers do not allow confined space entry and traditional methods of remote tank cleaning are not always as effective as manned entry – until now.
"Safety is our priority and while our engineers follow stringent safety protocols during confined space entry, robotic cleaning systems remove that requirement."
Eurotank Environmental is part of the Eurotank Service Group, which also comprises Eurotank Installations for construction and installation services and Europump Maintenance for fuel system service and maintenance. All three companies work in harmony to give retailers one contact for all their forecourt and fuel system services.
www.eurotank.co.uk