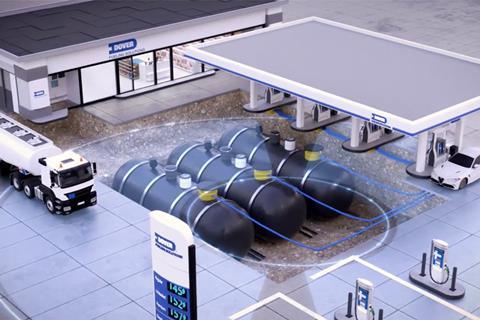 Dover Fueling Solutions (DFS) has launched version three of its DFS Fusion Automation Server.
This is the first new version of the DFS Fusion Automation Server since 2014 and runs on more advanced technology used in many other new DFS products and solutions, such as the DFS Anthem User experience platform and DFS Edge – which means it is enabled for digital transformation for the retail fueling industry through DFS' new connected solutions platform, DFS DX.
The version three boasts a fresh design including a backlit LED screen for instant status updates. Developed to allow fuel dispensers, tank gauge systems, price signs and back-end reporting to interface more seamlessly with point-of-sale and ERP systems, this upgraded solution has performance-enhancing technology to facilitate faster speeds and better responsiveness, as well expanded connectivity options. Using the Fusion V3, fuel retailers gain real-time visibility into information to help them make business decisions, any time, and from anywhere.
In addition, the Fusion V3 offers benefits such as in-depth reporting capabilities, providing enterprise-level visibility, remote management for unattended hours, interactive access for remote training, and remote accessibility and upgradability from any location. Fusion V3 can also be used as a flexible automatic tank gauge (ATG) system, removing need for a traditional console, optimising investment and reducing complexity.
DFS global product manager Nuno Almeida said: "The new Fusion V3 offers a reliable, secure and scalable solution for site automation, while optimising the total cost of ownership.
"Building on DFS' vast experience in advanced technology developments around the globe, Fusion V3 provides a high level of functionality and superior performance to deliver comprehensive connectivity of forecourt equipment."
The first version of the Fusion Automation Server was launched by Wayne Fueling Systems in 2007, with the second version released in 2014.