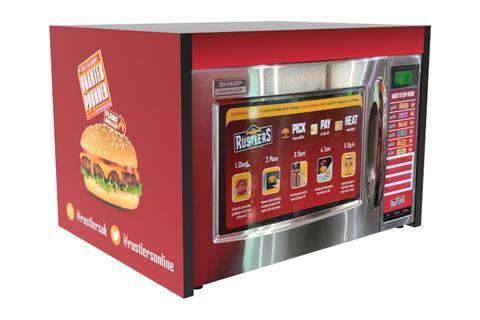 A range of food-to-go solutions is being launched by Kepak Consumer Foods' Rustlers brand.
Working with Nebrak, a company dedicated to creating micro market systems, Rustlers has launched four concepts with the aim of providing a solution for every store.
"2020 saw a rapid change in consumer behaviour, namely the shift to more home working. However, there are still 10.6 million people (33% of the total workforce) in key worker occupations and industries who continue to seek meal options throughout the day. Retailers need to appeal to these consumers by offering a 24/7 hot food-to-go solution," said Ross Davison, convenience controller at Kepak Consumer Foods.
"Now, with a roadmap outlining the easing of restrictions, retailers have a significant opportunity to make more money from their food to go fixtures with our bespoke range of instore solutions.
"This launch is more than just equipment, we will be providing a full food-to-go solution. We'll work with each retailer on range recommendations and category advice, plus we'll provide a dedicated POS kit and installation as part of each package.
"From a small microwave up to a larger-scale multi-station unit, Rustlers' in-store cooking solutions are proven to boost sales while removing any concerns over waste and the additional labour costs associated with food to go counters. Shoppers simply select, purchase and heat the Rustlers product in store, meaning there is no risk of hot products going to waste."
The microwaves are pre-programmed to cook the Rustlers SKUs and can be used to cook other hot food-to-go products for a cross-category solution.
"As the UK's number one chilled ready meals brand, selling two packs every second, retailers can use Rustlers as a beacon brand to bring more shoppers into store," added Ross.
"The Rustlers range fulfils both the functional and emotive need states of shoppers in search of a quick, quality, tasty food-to-go option and provides options for breakfast, lunch and dinner, making it a really valuable addition to the chiller cabinet.
"Through our new innovative food-to-go solutions, and our best-selling product range, we are committed to helping retailers develop incremental opportunities from the chiller by providing convenient options that can be enjoyed in and out of the home."