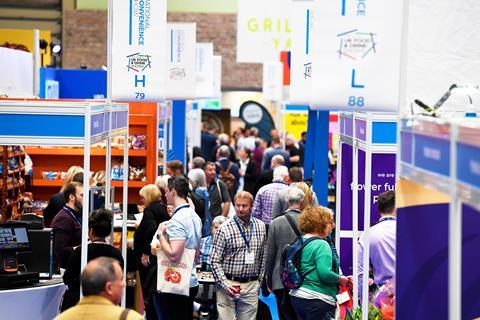 Running alongside The Forecourt Show last month, at the NEC, was the National Convenience Show (NCS) where retailers went to check out the latest products and services for the convenience store part of their business.
As with The Forecourt Show, there was a real buzz around the exhibition hall with people excited at being able to catch up again, in person.
Grenade is, of course, a massive brand in forecourt convenience stores so there was a big buzz around the stand. Dan Thorpe, trade activation manager at the company, said NCS presented them with the perfect opportunity to speak face-to-face with retailers and share the new flavours they'd launched since the last time they were at the show, three years ago.
"Our latest flavours, Salted Caramel, Fudged Up and Peanut Butter & Jelly have all since launched and it was great to hear the success of stores selling them, while introducing them to new retailers too."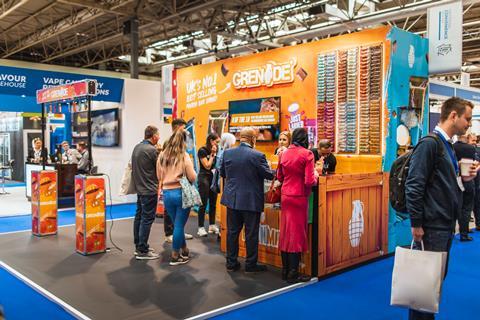 A star attraction on the stand was a new game called 'Catch the Supply Drop' where retailers reactions were challenged to see how many Grenade bars they could grab and keep.
"It was a highlight of our show to see retailers pluck our bars out of the air and take them back to their stores," explained Thorpe. "Overall, the show was a great opportunity to reconnect with and meet new retailers to share the Grenade range with, and challenge them to explode their healthier snacking sales."
Another stand that attracted a lot of attention was DSL Group's where retailers got a look at the company's rebrand first hand. Key ranges were on display, from phone essentials and vaping products to their ready-to-go promotional lines.
DSL Group director Karanbir Landa said retailers were looking for new products as well as advice on how to deal with changes in-store from the new HFSS regulations.
"We showcased our new air freshener range, Air Burst Cans, and our Foam Fresh which is a fragranced fabric cleaner.
"Where changes were going to have to be made in-store due to HFSS, retailers asked us for a planogram of impulse products to put where the HFSS products had been."
Another company that had a great Show was Navarra Retail Systems. Sales director, Hugh Walker, said it was great being back, meeting with a lot of current customers and many new customers too.
"We had a large stand to showcase all our equipment as well as our latest developments – an illuminated vape merchandise space built into the doors of our upright RDH range of smart tobacco gantries. The centre of the stand had a double low level smart tobacco gantry system and multi colour back-lit shelving configuration. This is something we can fit at the same time as installing the smart tobacco gantry.
"We also showed a high security safe version of the upright systems with more reinforcement and four locking bolts. It is built like a safe and protects tobacco in vulnerable and remote areas where police response to an alarm is marginal.
"We are developing dispensing for other categories and brought along the Versa system which can securely stock and dispense anything from a laptop down to a small packet of vape refills."
Elsewhere at the show:
• Muller launched a £1 price-marked pack of its Muller Corner yogurt as well as the Muller Kefir Smoothie, which is fruity, gut friendly and low in fat.
• F'real milkshakes unveiled two new flavours: Banana and Birthday Cake and said there were more new flavours in the pipeline.
• Mondelez spoke to retailers about its extensive range including the launch of Cadbury Caramilk Buttons and also the fact that Maynards Bassetts Fizzy Fish are now certified as vegan.
• Mentos showed off its sugar free range which includes Mentos Sugar Free Chews which are said to have all the texture of the classic chewy Mentos candy in fun bitesize pieces with a crisp outer shell and soft centre, but with none of the sugar.
Andrew Reed, managing director – events and exhibitions at NCS and Forecourt Show organiser, William Reed, said: "The familiar feel-good factor that sets these events apart really has returned, and yet the enforced break has resulted in an almost festival air - driven by people's relief to get back to some semblance of normality, back to the show floor and back to business. This enthusiasm is writ large in the positive feedback and weight of exhibitor commitment to the 2023 shows we have already received, but also in the sense of togetherness we have felt. It's been a fantastic showcase for our industry."